Wish You All A Merry Christmas!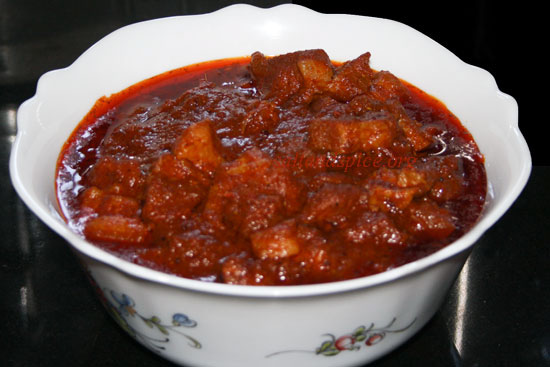 'Pork Vindaloo' is a Kerala and Goan Christian specialty.  It is a very spicy and tangy dish which tastes better as it sits.  'Pork Vindaloo' can be served with rice, pulao, appam, sannas, parathas or bread.
Ingredients
Pork – 1 kg cut into pieces
Onions – 4 chopped
Tomatoes – 3 chopped
Salt – to taste
Oil – 3 tbsp
For the Paste
Chilly powder – 1 1/2 tbsp
Kashmiri chilly powder – 2 1/2 tbsp
Pepper powder – 1 tsp
Garam masala – 1 tsp
Turmeric powder – 1/2 tsp
Mustard seeds – 2 tsp
Fenugreek seeds/ Uluva – 1/4 tsp
Cumin seeds – 1/2 tsp
Ginger-garlic paste – 4 tbsp
Sugar – 2 tsp
Vinegar – 4 tbsp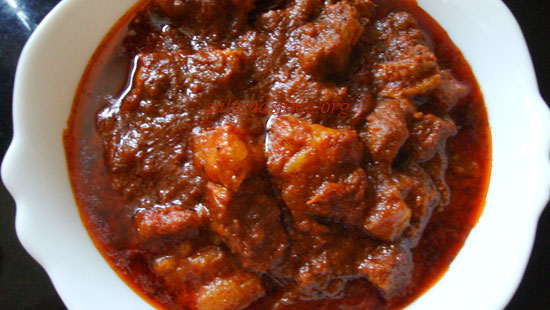 Method
Grind the ingredients to a fine paste.  Add this paste to the pork pieces.  Add salt and mix well.  Keep aside for 2 hrs.  Heat oil in a pressure cooker and fry the onions till light brown in color.  Add tomatoes and fry till oil separates.  Now add the marinated pork pieces and fry for a minute.  Add 1/2 cup of water and mix well.  Cover and cook on a low flame for 20 minutes after the first whistle or till done.  Once it is cool, open the lid and simmer for 5 minutes, till the gravy is thick.  Lip-smacking 'Pork Vindaloo' is now ready to be served.  Try it this Christmas…I am sure you will love it!