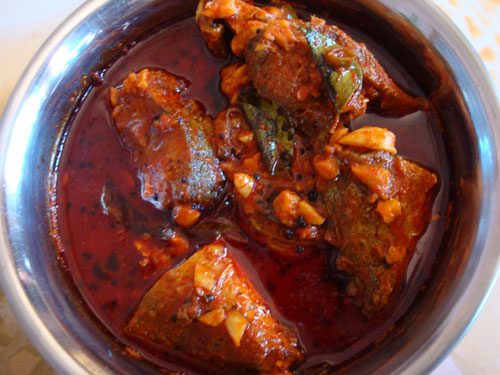 My dear friend Bharathy had asked for the recipe for 'Fish Pickle'.  But due to some inconvenience I couldn't post it immediately.  Anyways here is the recipe for the lip smacking 'Fish Pickle'.  It is a hit in my family and I think many of my readers will also like it very much!  You can serve it with rice, chapathi or pulao.
I am sending this recipe to Indrani for the event "Spotlight : Fish"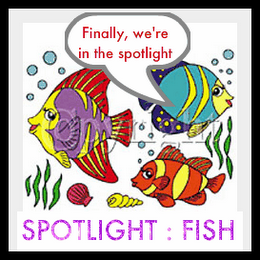 Ingredients
Fish – 1 kg cut into small pieces
Turmeric powder – 2 tsp
Pepper powder – 1/2 tsp
Salt – 1 1/2 tsp
Ginger – 3 tbsp chopped
Garlic – 3 tbsp chopped
Green chillies – 6 chopped
Curry leaves – 4 sprigs
Mustard seeds – 1 tsp
Uluva/ Fenugreek seeds – 1/4 tsp
Kashmiri chilly powder – 5 tbsp
Cumin/ Jeera powder – 1/4 tsp
Water – 1 cup
Vinegar – 1 cup
Salt – 3 1/2 tsp
Sunflower oil – 2 cups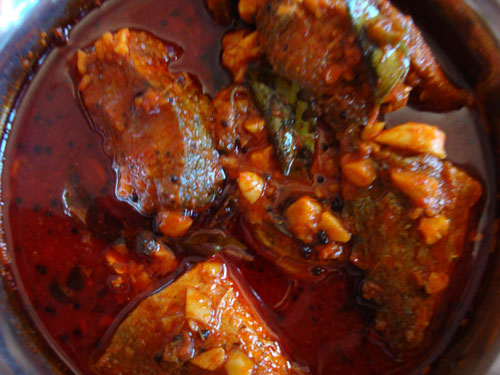 Method
Marinate the fish pieces with turmeric powder, pepper powder and salt.  Keep aside for 30 minutes.  Fry them in hot oil.  Strain and keep aside.  In the same oil, add mustard seeds and fenugreek seeds.  When it sputters, add ginger, garlic, green chillies and curry leaves.  Fry till they are light brown in color.  Reduce the flame and add chilly powder and cumin powder.  Stir and add water, vinegar and salt.  Increase the flame and let it boil.  Add the fried fish pieces and mix well.  Switch off the flame and allow it cool completely.  Transfer the pickle into a glass jar and refrigerate.  Cheers!
Award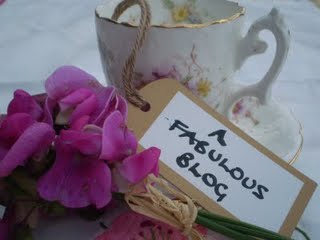 Thanks a lot to Sangii for honoring me with this Award!
I would like to share this Award with my fellow bloggers Pavithra and Pooja and Happy Cook!!!