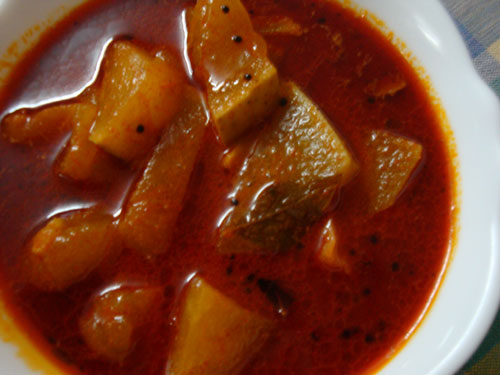 Mango season is here and this is the right time to enjoy them by making variety dishes out of them.  It is also good that you pickle them, so that you can enjoy Mangoes even when the season is over.  Here is a recipe for 'Mango Pickle' which I made few days ago.  The plus point is that, this pickle can be used from day one onwards!  It has a long shelf life.  You can also refrigerate it and use it as and when required.
This pickle goes to Srivalli's event "Mango Mela"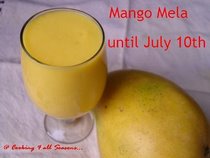 Ingredients
Raw Mango pieces with skin- 4 cups
Mustard seeds – 1 tsp
Ginger – 4 " piece chopped
Garlic – 5 julienne
Curry leaves – 3 sprigs
Kashmiri chilly powder – 5 tbsp
Turmeric powder – 1/2 tsp
Fenugreek/ methi/ uluva powder – 1/2 tsp
Asafoetida/Hing/Kayam powder – 2 pinches
Vinegar – 1/2 cup
Water – 1 1/2 cups
Salt – 5 tsp
Gingelly oil – 1/2 cup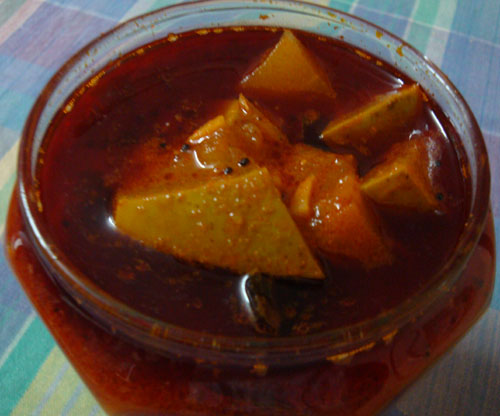 Method
Heat oil in a kadai and splutter mustard seeds.  Add ginger, garlic and curry leaves.  Saute till they become light brown in colour.  Reduce the flame and add the spice powders.  Fry for a second and add water, vinegar and salt.  Let it boil for a minute.  Switch off the fire and add the mango pieces.  Mix well and allow it to cool completely.  Transfer the pickle to a glass jar.  Serve it with any dish of your choice!