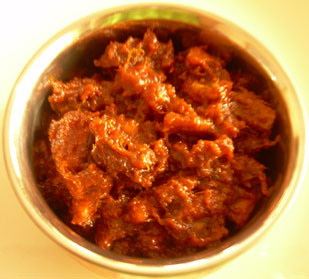 My family loves Dates, especially my husband! When I was in Dubai last Summer, my friend Celine used to bring me fresh ripe Dates from her workplace. The fresh ones are juicy and they taste really great! It is Dates Season during Summer in the Middle East. I always make sure to bring lots of Dates from Dubai when I come back to India.
Pickling is a good way of preserving Dates before they become too dry. Date Pickle is very easy to prepare and tastes so good. It can be served with Biriyani, Pulao, Rice or Parathas.
I am sending this to AFAM – Dates being hosted by Chandrika of akshayapatra.
What you need
Seedless Dates – 500 gms
Ginger-garlic paste – 4 tbsp
Chilli powder – 5 tbsp
Turmeric powder – 1/4 tsp
Salt – 5 tsp
Sugar – 3 tbsp
Vinegar – 1/2 cup
Water – 1/2 cup
Oil – 5 tbsp
Method
Cut each date into 4 pieces. Heat oil in a pan and add the ginger-garlic paste. Fry on a low flame till the aroma comes out. Add chilli powder and turmeric powder. Stir and add vinegar, water, sugar and salt. When it starts boiling, add the chopped Dates. Simmer till the gravy is thick and it coats well on the Dates. Put off the fire. Cool and transfer it to a glass jar. This pickle can be served immediately. Store in the refrigerator. It has a long shelf life. Enjoy!