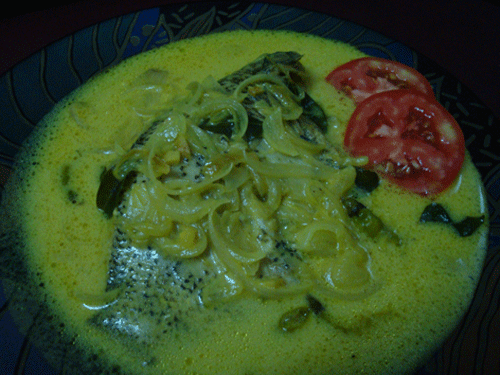 'Fish Moly' is a Kerala Christian delicacy which is made as a breakfast dish and served with appam or bread on occasions like Christmas, New Year and Easter.  It is also an important dish served as the first course for lunch and dinner during marriages, baptisms, engagements and all other important occasions.  'Fish Moly' is actually a mild 'Fish Stew' made with coconut milk and is a fusion of Portuguese and Kerala cooking.  Fish like Pearl spot, Seer, Mullet and Pomfret are usually used to make this very tasty dish.  So dear friends, try this recipe and enjoy with family and friends!
Ingredients
Pearl spot/ Karimeen – 1 kg medium size
Onions – 4 medium sliced
Ginger – 2 tbsp chopped
Garlic – 1 tbsp chopped
Green chillies – 10 slit
Curry leaves – 6 sprigs
Turmeric powder – 2 1/2 tsp
Pepper powder – 1 1/2 tsp
Garam masala – 1 tsp
Thin coconut milk – 3 cups
Thick coconut milk – 1 cup
All purpose flour/ Maida – 2 tsp
Water – 1/4 cup
Vinegar – 3 tbsp
Sugar – 1/4 tsp
Salt – to taste
Coconut oil – 3 tbsp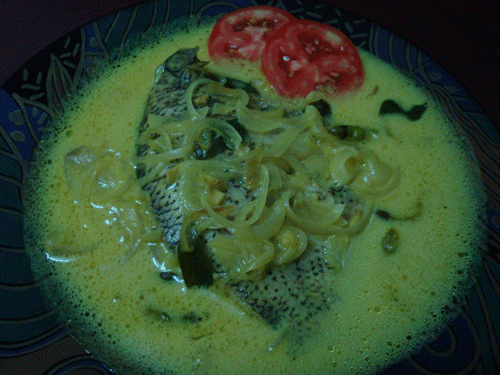 Method
Heat oil in a large non-stick pan and add onions, ginger, garlic, green chillies and curry leaves.  Saute till the onions turn light brown.  Add all the spice powder and saute for a minute.  Now add the thin coconut milk, vinegar and salt.  Mix well and cover with a lid.  When it boils, add the fish and cook covered.  When the fish is almost done, add sugar and flour mixed with 1/4 cup of water.  Gently twist the pan and cook for another 5 minutes.  Finally add the thick coconut milk and twist the pan so that it is evenly mixed with the gravy.  Switch off the fire and keep covered for half an hour before serving.  Serve garnished with tomato slices or fried cashew nuts and raisins or cooked macroni.  Enjoy!!!