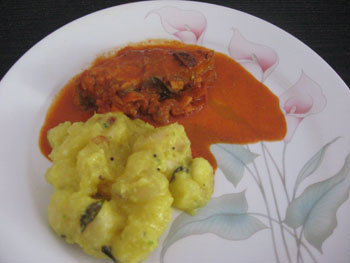 My dear friend 'R' had requested for the recipes of 'Kappa and Meen Curry'. Therefore, I am posting the 'Kochi Style Fish Curry' and 'Kappa Kuzhachathu' (as it is known in that part of Kerala). Kappa or Tapioca is a staple food in Kerala. It is served in different forms accompanied with Fish curry, Beef or with Kantharimulaku Chammanthi/Bird's eye Chilli Chutney. . Once you taste it , you will crave for it more and more! 😛
Kappa Kuzhachathu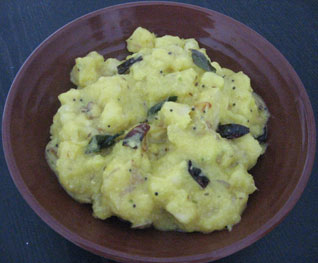 Ingredients
Kappa/Tapioca – 1 kg
Grated coconut – 1 cup
Green chillies – 3
Garlic – 1
Turmeric powder – 1/2 tsp
Cumin seeds/Jeera – 1/4 tsp
Small onions – 8 sliced
Curry leaves – 1 sprig
Dry red chillies – 3 seeds removed
Mustard seeds – 1/2 tsp
Coconut oil – 2 tbsp
Salt – to taste
Method
Peel, wash and chop the tapioca. Put them into a pressure cooker. Add salt and pour enough water. Cook for 5 minutes. Grind coarsely grated coconut, green chillies, jeera, garlic and turmeric powder with some water. Drain excess water from the boiled tapioca and mash them slightly. Add the ground mixture and a cup of water. Mix well and let it simmer for 2 minutes. Adjust the salt and put off the fire. In a pan, heat oil and splutter mustard seeds. Add the small onions, curry leaves and broken red chillies. Fry till the onions turn light brown. Pour it over the tapioca mixture and mix well. 'Kappa Kuzhachathu' is ready to be served! 😀
Note: When you buy Kappa, see that they are firm and the inside is white in color. The skin should not be too dry. If you peel the skin with nails, the inside skin should be pinkish. I used the peeled frozen ones which are equally good.
Kochi Style Fish Curry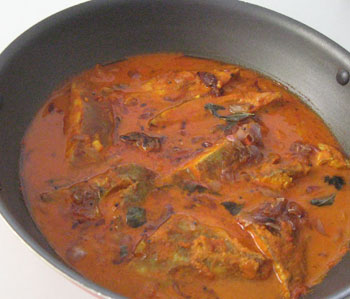 Ingredients
Black pomfret – 600 gms
Ginger – 1″ piece chopped
Garlic – 2 chopped
Gren chillies – 2 slit
Curry leaves – 1 sprig
Tomato – 1 chopped
Kudampuli/Kokum – 3 pieces
Coriander powder – 1 tsp
Kashmiri Chilli powder – 3 tsp
Turmeric powder – 1/4 tsp
Salt – to taste
Grated coconut – 1/2 cup
Small onions – 7 sliced
Curry leaves – 1 sprig
Mustard seeds – a pinch
Fenugreek/Uluva/Methi seeds – a pinch
Coconut oil – 2 tbsp
Method
Clean and wash the fish with salt and vinegar. Slice them and keep aside. Wash and soak the kudampuli in half a cup of water. Take a large pan, put chopped ginger, garlic, green chillies, curry leaves, tomatoes, salt and kudampuli along with the soaked water. Add coriander powder, chilli powder, turmeric powder and 2 cups of water. Mix well. Keep the pan covered on high flame. When it boils, add the fish pieces, cover and cook on medium flame. Meanwhile, grind the coconut to a fine paste. When the gravy becomes thick, add the coconut paste and a cup of water. Mix gently with a spoon. Let it simmer for 3 minutes more. Adjust the salt and switch off the flame. In another pan, heat oil and splutter mustard seeds and methi seeds. Add the small onions and curry leaves. Fry till the onions turn light brown. Add this to the fish curry and gently stir it with a spoon. Delicious fish curry can now be served with Kappa! 😉
Note: Black Pomfret is the best for preparing this curry. But you can use any fish of your choice. If kudampuli is not available, use a gooseberry size of tamarind soaked in water. Instead of ground coconut paste, you can add thick coconut milk or coconut powder available in stores. Kashmiri chilli powder is milder. If you prefer a very hot curry, use the regular chilli powder.