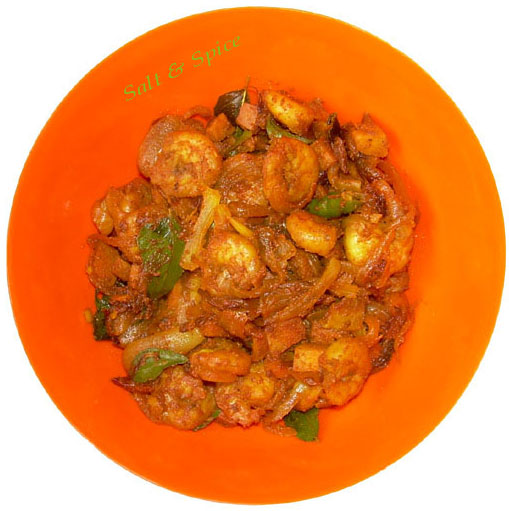 Prawns fry or chemmeen ulathiyathu is my favourite! Everyone in our family likes it very much. If you are a non vegetarian, you should try this dish at least once. I am sure, every time you buy prawns you will end up making this dish!
Ingredients:
Prawns -1\2 kg
Onion -1 sliced
Ginger -1″ piece chopped
Green chillies -2 slit
Curry leaves -1 sprig
Chilli powder -1 tsp
Turmeric powder -1 tsp
Kudumpuli -2 small pieces
Coconut pieces -1\4 cup
Water -1\4 cup
Salt -to taste
For frying:
Small onions -5 sliced
Curry leaves -1 sprig
Chilli powder -1 tsp
Coconut oil -2 tbsp
Method:
Cook the prawns along with onions, ginger, curry leaves, green chillies, chilli powder, turmeric powder, coconut pieces,kudampuli,salt and 1\4 cup of water. (If kudampuli is not available, you can add 1 tsp vinegar.) Stir in between and see that the prawns does not stick to the bottom of the pan. Evaporate excess of water and keep aside. In a non stick pan, heat oil and add the small onions and curry leaves. Fry till the onions turn golden brown. Add the chilli powder and fry for few seconds. Then add the cooked prawns. Fry for about 5 minutes. Now prawns fry is ready to be served!
18 Comments