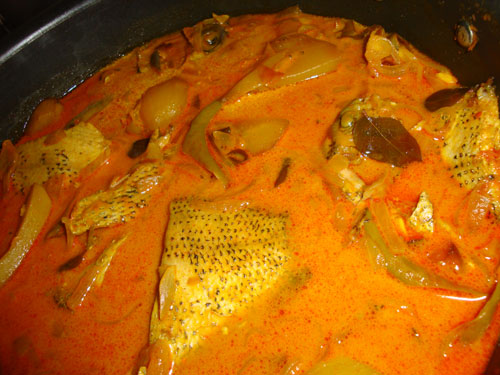 'Karimeen Curry' is an authentic Kerala Fish Curry.  It is one of the tastiest Fish Curries I have ever made!  I usually make it with Mangoes but you can also use Kudampuli, Tamarind or Tomatoes.  It goes very well with rice, rotis and bread.  So dear friends make 'Karimeen Curry' and enjoy a delicious meal!!!
Ingredients
Karimeen/ Pearl Spot – 1 kg, each cut into half
Raw mangoes (less sour variety) – 3 medium, cut into pieces
Kudampuli – 2 pieces (optional)
Onions – 2 medium,  sliced
Ginger – 2″ piece, chopped
Garlic – 2 chopped
Green chillies – 6 slit
Curry leaves – 4 sprigs
Turmeric powder – 2 tsp
Chilly powder – 3 tsp
Coriander powder – 2 tsp
Fenugreek/ Uluva/ Methi powder – 1/8 tsp
Water – 2 cups
Thin coconut milk – 2 cups
Thick coconut milk – 1/2 cup
Salt – to taste
Coconut oil – 2 1/2 tbsp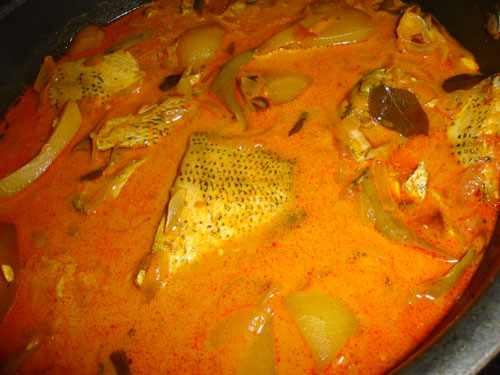 Method
Heat oil in a pan and add onions, ginger, garlic, green chillies and curry leaves.  Saute till the onions turn light brown.  Add the spice powders and fry for few seconds.  Then add the thin coconut milk, water and salt to taste.  Mix well, close the lid and allow it to boil.  Open the lid and add the fish pieces and mangoes.  Cover and cook on a medium flame.  When the fish is done and the oil starts to float on top, reduce the flame and add the thick coconut milk.  Gently twist the pan so that the coconut milk mixes well with the curry.  Switch off the flame before it starts boiling.  Serve it with steamed rice!
I used store-brought coconut milk for the recipe.  You can dilute it with water to get the thin coconut milk.  Coconut milk powder can also be used to make coconut milk.
I used 'chenacha manga'/ semi ripe mangoes to make the Curry which made it even more tastier!