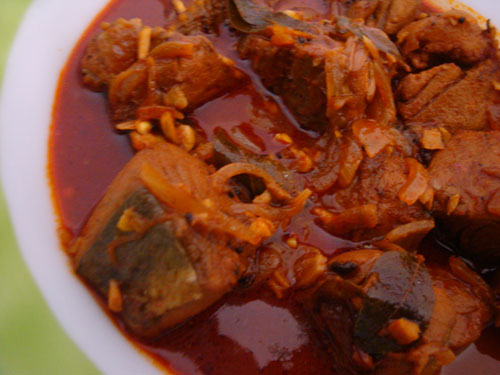 Remember the 'Red-hot Kerala Fish Curry' Arundhati Roy had described in her Booker Prize winning novel "The God of Small Things"…?  'Meen Vattichathu' is something Kerala Christians, especially those from Central Kerala love to have everyday with hot rice!  This mouth-watering fish curry is usually prepared in an earthen pot or 'manchatti' which makes it more flavorful.  It tastes better and better as it sits and can be refrigerated for up to a week.
Ingredients
King (Seer) Fish – 1/2 kg cut into cubes
Shallots – 10 sliced
Ginger – 1 tbsp chopped
Garlic – 1 tbsp chopped
Green chillies – 3 slit
Curry leaves – 4 sprigs
Kudampuli/ Gambooge – 4 to 5 pieces
Mustard seeds – 1/2 tsp
Fenugreek seeds/ Uluva – 1/8 tsp
Coriander powder – 2 tsp
Kashmiri chilly powder – 4 tsp
Turmeric powder – 1/2 tsp
Water – 2 cups
Salt – to taste
Coconut oil – 2 tbsp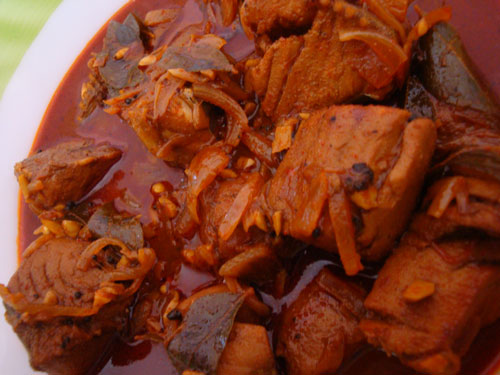 Method
Soak kudampuli in half a cup of water and keep aside.  Heat oil in a pan and splutter mustard seeds and fenugreek seeds.  Add shallots (I used one onion), ginger, garlic, green chillies and curry leaves and saute till they turn light brown.  Add a little water to the spice powders to form a paste.  Now add this paste to the pan and saute till the raw smell goes.  Add the soaked kudampuli along with the water.  Add more water and salt to taste.  Mix well and keep it covered till it boils.  Open the lid and add the fish pieces.  Keep covered and cook on a medium flame till the oil starts to float on top of the curry.  Yummy 'Meen Vattichathu' is ready to be served.  Enjoy!