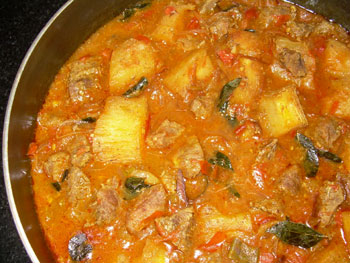 Hello Friends, sorry for the long delay in posting something!  I had a busy two months holidays in Bangalore and I am going back to Singapore this week.  So thought of posting one of my favorite dishes before leaving… Hope you will like it!   🙂
'Kappa and Beef Curry' is a  Kerala Christian specialty in Kochi, where I come from.  Firstly, Kappa or Tapioca is steamed over the Beef while it is being cooked.  The Kappa which is steamed with Beef tastes awesome and can be eaten as a snack.  The cooked Beef and Kappa are then made into a curry which can be served along with steamed rice, bread, rotis, dosas…you name it!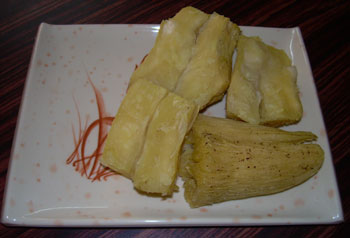 Ingredients
Beef cubes – 1 kg
Tapioca – 1 kg
Giinger – 1″ chopped
Green chillies – 5 slit
Turmeric powder – 1/4 tsp
Salt – to taste
Cardamom – 3
Cinnamon – 2″ piece
Cloves – 4
Onions – 2 sliced
Ginger garlic paste – 1 1/2 tsp
Curry leaves – 2 sprigs
Tomatoes – 3 (medium) chopped
Coriander powder – 2 tbsp
Chilli powder – 2 tsp
Turmeric powder – 1/2 tsp
Pepper powder – 1 tsp
Perumjeerakam/Fennel powder – 1/4 tsp
Oil – 2 tbsp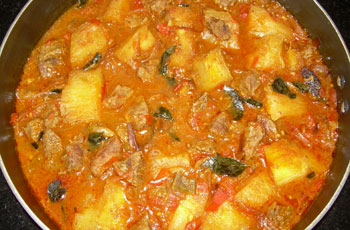 Method
Put the Beef, ginger, green chillies and salt into a pressure cooker.  Add enough water to  cover the Beef.  Peel and cut the tapioca into big chunks.  Wash them well and apply a little salt and turmeric.  Place them over the Beef in the pressure cooker.  Close the lid and cook till the Beef is well cooked.  Open the lid when it is cool and take out the tapioca pieces carefully.  Serve them as a snack.  Cut the left over tapioca into small pieces and keep aside.
In a non-stick pan, heat oil and add the whole spices.  Then add the onions and curry leaves.  Fry till golden brown in colour.  Add the ginger garlic paste and fry for few seconds.  Now add the tomatoes and fry on a medium flame.  Add all the powders and fry till the oil separates.  Add the cooked Beef along with the left over water.  Also add the tapioca pieces and a cup of water.  Add more salt if needed and mix well.  Close the lid and simmer for about 15 minutes till the gravy is thick.  Serve hot!   😆