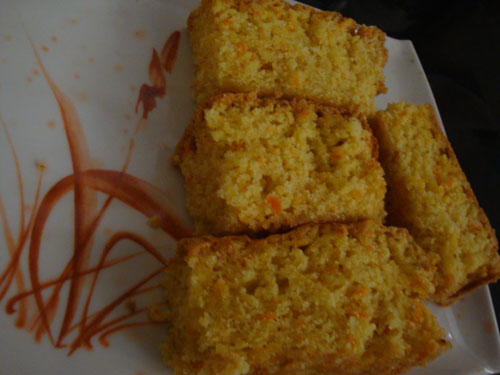 This is my 75th post and thought of posting something sweet to celebrate the occasion!  So here comes the 'Carrot Cake' which is healthy as well as yummy.  It is a hit in my family and will vanish within no time once I serve it…!
Ingredients
All purpose flour/ Maida – 3 cups
Carrots – 2 cups grated
Sugar – 2 cups
Eggs – 4
Oil – 1 cup
Baking powder – 3 tsp
Baking soda – 1/4 tsp
Garam masala – 1/4 tsp
Cardamom essence – 1 tsp
Salt – 1/4 tsp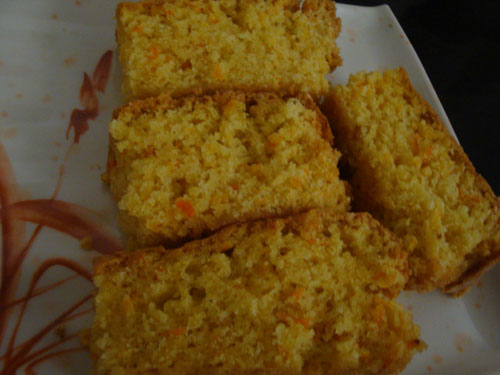 Method
Mix maida with baking powder, baking soda, salt and garam masala.  Keep it aside.  Blend oil and sugar in a bowl.  Add each egg and beat well using a hand mixer.  Add the grated carrots and mix well.  Add the maida mixture in small portions and fold in.  Finally add the essence and mix well.  Pour into two cake moulds and bake in a preheated oven on 350 degree F for 45 minutes or until a skewer inserted in the middle comes out clean.  Leave it in the oven for 10minutes.  Take out and allow it to cool completely before serving.  Enjoy!
You can substitute garam masala with cinnamon powder and cardamom essence with cardamom powder.