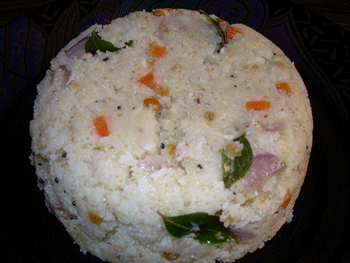 This is a breakfast dish you can prepare in just 15 minutes!  Adding carrots and coconut makes the 'Upma' delicious.  If the rava is really fresh, no need to dry roast it before making the 'Upma'.
I am sending this recipe for the event: "15 minute Cooking!" hosted by Mahima of 'Indian Vegetarian Kitchen".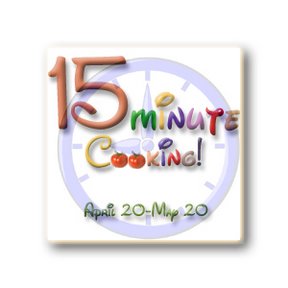 Ingredients
Semolina/Rava/Sooji – 1 cup
Water – 1 1/2 cups
Onion – 1 medium sliced
Carrot – 1 small chopped
Coconut – 1/4 cup grated
Ginger – 1″ piece chopped
Green chillies – 2 chopped
Curry leaves – 1 sprig
Mustard seeds – 1/2 tsp
Black gram/Urad dhal – 1 tbsp
Bengal gram/Chana dhal – 1 tbsp
Salt – to taste
Ghee – 1 tsp
Oil – 3 tsp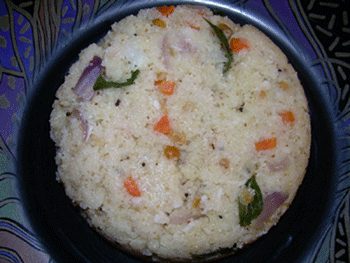 Method
In a non-stick pan, lightly roast the rava on low flame.  Keep aside.  Heat oil and ghee together in a pan and splutter mustard seeds.  Add the dhals and fry for a few seconds.  Then add carrots, onions, ginger, green chillies and curry leaves.  Fry till the onions are transparent.  Now add water, grated coconut and salt.  When it boils, lower the flame and slowly add the rava and keep on stirring till all the water is absorbed.  See that no lumps are formed.  Serve with bananas.  Kids will like to eat it with sugar and pappads!