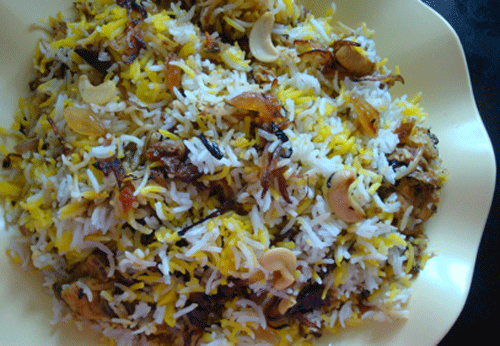 My daughter came home today after three years of study in Singapore.  It was really a joyous occasion for the whole family!  To celebrate the day, I made this delicious Kerala style 'Chicken Biriyani'.  I made the Biriyani in the simplest way possible since I had very little time after coming back from the airport.  Hope it will be of use to many of you who would like to make the yummiest Chicken Biriyani within no time!
Ingredients
Chicken – 1.25 kg cut into pieces
Curd – 2 cups
Turmeric powder – 1 tsp
Salt – to taste
Onions – 3 big sliced
Ginger – 4″ piece
Garlic – 5 big
Green chillies – 15
Tomatoes – 6 chopped
Coriander powder – 2 tsp
Garam masala – 2 tsp
Coriander leaves – 1 cup chopped
Mint leaves – 1 cup chopped
Oil – 3 tbsp
For the Rice
Basmati Rice – 4 cups
Water – 5 1/2 cups
Cardamom – 8
Cloves – 10
Cinnamon – 4
Bay leaves – 4
Ghee – 3 tsp
Salt – to taste
For Garnishing
Onions – 3 big sliced
Cashew nuts – 2 tbsp
Kismis/ Golden raisins – 2 tbsp
Oil – for frying
Milk – 1/4 cup
Rose essence – 1 tsp
Saffron essence – 1 tsp
Pineapple essence – 1 tsp
Lemon yellow color – 1 tsp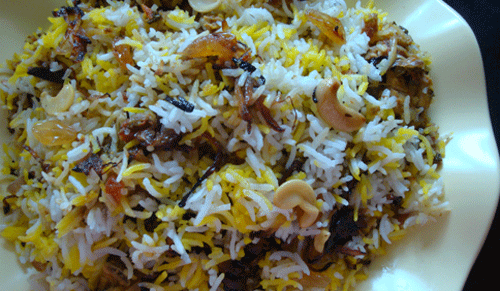 Method
Marinate the chicken pieces with curd, turmeric powder and salt.  Keep aside.  Crush the ginger, garlic and green chillies together in a grinder.  Heat oil in a non-stick pan and fry the onions till light brown.  Add the crushed mixture and fry till the raw smell goes.  Add the tomatoes and fry till oil separates. Add coriander powder and garam masala.  Fry for a minute and add chopped coriander and mint leaves.  Now add the marinated chicken pieces and mix well.  Do not add any water.Close with a lid and cook till done.  Stir in between.  Open the lid and evaporate excess water till the gravy is really thick.
Wash and soak the rice in water for 20 minutes.  Pour 5 1/2 cups of water into a rice cooker.  Drain and add the rice into it.  Also add whole spices, ghee and salt to taste.  Cook till done.  Keep the lid open after cooking.
Fry the onions, cashew nuts and raisins in oil till golden brown.
Take 1/4 cup of milk and add all the essences and color.  Mix well.
Layer the cooked rice on top of the chicken mixture, garnish with fried onions, nuts and raisins.  Sprinkle the milk mixture on top of it.  Close with a tight lid and keep it on a low flame for 20 minutes.  Switch off the flame and allow the biriyani to sit for another 15 minutes before serving.
Layering can also be done in the rice cooker.  Put it in the cooking mode and cook till done.
Or layer the biriyani in a microwavable dish and cook on high for 5 minutes.
Use rose water, saffron strands and pineapple, if available.
Cheers!!!