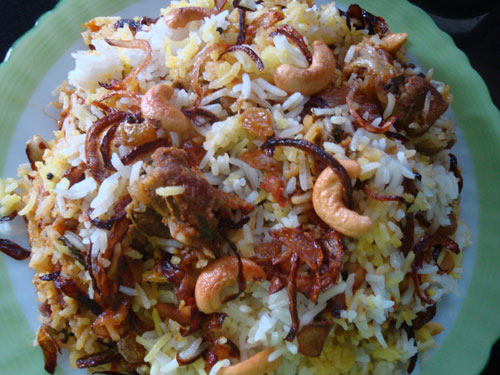 Hi dear friends!  This is my 100th post…  I never ever thought that I would post so many recipes!  It is because of your love and encouragement that I am able to do so….!  My FireStats shows 68902 visits and 164033 page views as I am posting!!!  This is one reason why I want to continue blogging…!
I realize that I have not posted a Biriyani recipe so far… and to celebrate the occasion, I am posting a delicious Mutton Biriyani which I hope you all will like… 🙂
Ingredients
Mutton – 1 kg cut into pieces
Curd- 1 1/2 cups
Turmeric powder – 1 tsp
Salt – to taste
Oil – 2 tbsp
Onions – 2 sliced
Ginger garlic paste – 2 tbsp
Green chillies -6 slit
Tomatoes – 4 chopped
Coriander powder – 3 tsp
Chilly powder – 1 tsp
Pepper powder – 1 tsp
Garam masala – 1 tsp
Pineapple – 3/4 cup chopped
Coriander leaves – 1/2 cup chopped
Mint leaves – 1/2 cup chopped
For the Rice
Basmati Rice – 3 cups
Water – as required
Salt – to taste
Bay leaves -3
Cardamom – 6
Cloves – 8
Cinnamon – 2″ 4 pieces
Star anise – 1
For Frying
Onions – 2 sliced
Cashew nuts – 2 tbsp
Raisins – 2 tbsp
Oil – for frying
For Garnishing
Milk – 1/4 cup
Saffron – few strands
Rose Water – 2 tsp
Ghee – 3 tsp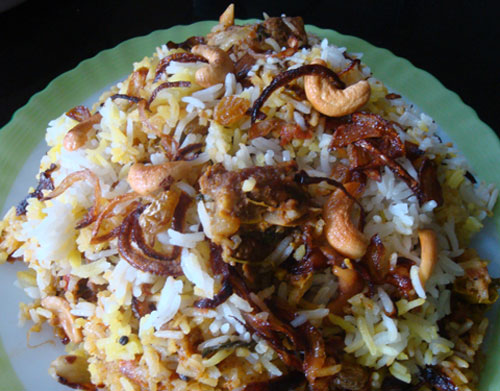 Method
Marinate the mutton pieces with curd, turmeric powder and salt for 30 minutes.  Heat oil in a pressure cooker and add the onions.  Saute till it turns light brown.  Add the ginger garlic paste and saute for a minute.  Now add the tomatoes and green chillies and fry till oil separates.  Add the spice powders and fry till aroma comes out.  Now add the marinated mutton and mix well.  Do not add any water.  Close the lid and cook till done.    Open the cooker and add chopped pineapple, coriander and mint leaves.  Simmer till the gravy is thick.
Wash and soak the rice for 20 minutes.  Boil water in a large vessel.  Drain and add the rice, whole spices and salt.  Cook till the rice is done.  See that it is not over cooked.  Strain through a sieve and allow it to cool.
Heat oil in a pan and fry the onions till golden brown.  Fry the cashew nuts and raisins in the same oil.  Keep aside.
Soak the saffron in the milk and add rose water to it.
Take a large vessel and smear the bottom with 1 tsp of ghee.  Spread 1/3rd of the cooked rice.  Sprinkle the rice with some milk mixture.  Spread some fried onions, nuts and raisins.  Layer it with half of the cooked mutton.  Add some ghee.  Repeat the process and end with rice on top.  Sprinkle milk mixture and add some ghee.  Decorate with fried onions, nuts and raisins.  Close with a tight lid and keep it on a low flame on the small burner for 20 minutes.  Switch off the flame and allow the Mutton Biriyani to sit for  another 15 minutes before serving.  Serve hot with tomato salad, pickle and pappads.  Enjoy!
Tomato Salad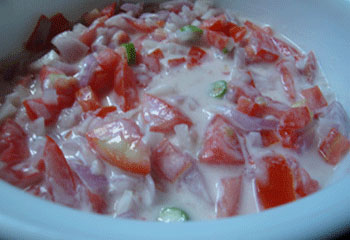 Ingredients
Tomatoes – 3 chopped
Curd – 1 cup
Onion – 1 chopped
Green chillies – 2 chopped
Salt – to taste
Method
Take the onions and green chillies in a bowl.  Add well beaten curd and salt. Mix well.  Add the chopped tomatoes and mix together.  Serve Tomato Salad with Biriyani or Pulao.