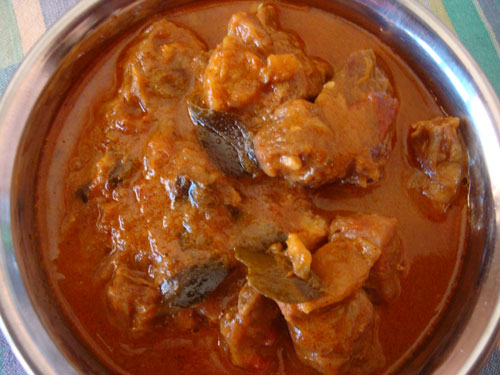 This is a delicious curry and quite easy to prepare.  It goes well with rice, parathas, bread, appam, idiyappam, puttu or pulao.  You can also make this curry using lamb.  Avoid using coconut milk if you wish so.  Anyways, you are going to love it!
Ingredients
Mutton/Lamb – 1 kg
Onions – 2 sliced
Ginger – 2 tbsp chopped
Garlic – 2 tbsp chopped
Green chillies – 3 slit
Curry leaves – 2 sprigs
Tomatoes – 2 chopped
Cardamom – 2
Cinnamon – 2″ piece
Cloves – 2
Meat masala/Curry powder – 4 tsp
Turmeric powder – 1/2 tsp
Chilly powder – 2 tsp
Thick coconut milk – 1/2 cup
Water – 1 cup
Salt – to taste
Oil – 2 tbsp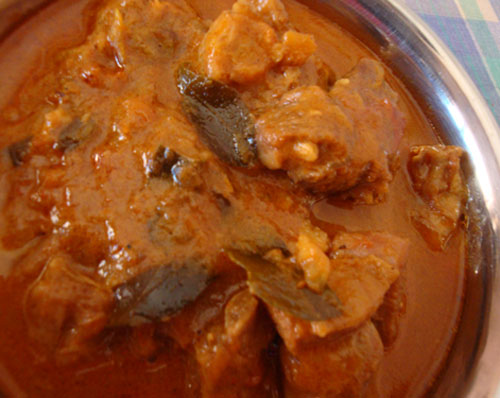 Method
Heat oil in a pressure cooker and add the whole spices.  Then add the onions, ginger, garlic, green chillies and curry leaves.  Fry till the onions turn golden brown.  Add the tomatoes and salt and fry till oil separates.  Now add all the spice powders and fry till the aroma comes out.  Add the mutton pieces and water.  Mix well, close the lid and cook for 15 minutes.  Let it cool.  Open the lid, mix well and simmer till the gravy is thick.  Pour the thick coconut milk, mix well and switch off the flame.  Serve hot!