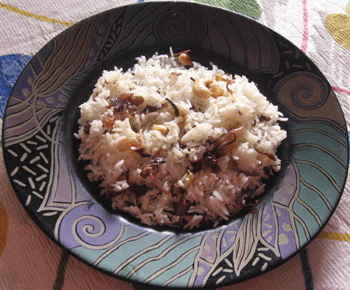 Wish you all a Happy Easter!
Ingredients
Basmati rice – 3 cups
Bay leaves -2
Peppercorns – 6
Cinnamon – 3 (1″ pieces)
Cardamom – 4
Cloves – 4
Curd/yogurt – 1 1/2 cups
Water – 4 1/2 cups
Salt – to taste
Ghee – 2 tbsp
Onions – 2 sliced
Cashew nuts – 1/4 cup
Raisins/kismis – 1/4 cup
Oil – for frying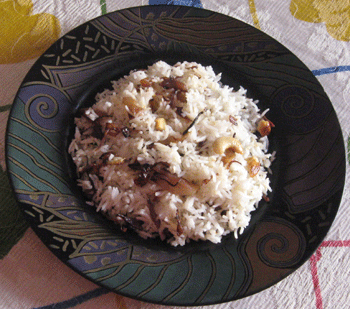 Method
Wash and soak the rice in water for 20 minutes.  Beat the curd and mix well with the water.  Pour it into a rice cooker.  Add all the spices, rice and salt.  When it is warm, add the ghee and mix well.  Cook till done.  Meanwhile, heat oil in a pan and fry the cashew nuts and raisins.  Keep them aside.  Then fry the onions till golden brown.  Garnish the ghee rice with the fried nuts, raisins and onions.  Serve with any special non veg or veg curries and salad, pickle and pappads!
Adding curd (should not be too sour) gives the rice a special taste.  It tastes much better than the regular Ghee rice.  Try it and you will love it!