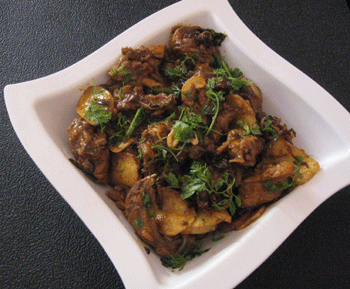 I usually make this Chicken Roast on special occasions like Christmas and Easter. It is a really tasty dish which can be served with appam, pulao, bread, roti or rice.
Ingredients
Chicken – 1 kg
Onions – 3 sliced
Ginger – 1″ piece chopped
Garlic – 4 chopped
Green chillies – 4 slit
Curry leaves – 2 sprigs
Tomatoes – 2 chopped
Coriander powder – 3 tsp
Chilly powder – 1 tsp
Turmeric powder – 1/2 tsp
Pepper powder – 1/2 tsp
Garam masala powder – 1 tsp
Salt – to taste
Water – 1 cup
Oil – 2 tbsp
Potatoes – 2 large
Cashew nuts – 10
Raisins – 10
Coriander leaves – 2 tbsp chopped
Oil – for frying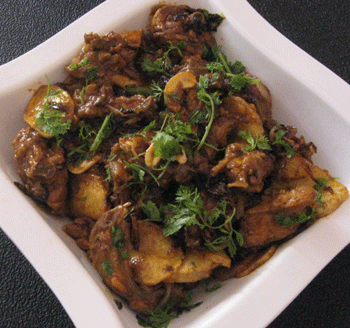 Method
In a non-stick pan, mix together half of the sliced onions, ginger, garlic, green chillies, curry leaves, tomatoes, salt and all the spice powders along with the chicken pieces. Pour a cup of water and mix well. Cook covered on medium flame till the chicken is done. Open the lid and mix well. Let it simmer till the gravy is thick. Pour 2 tbsp of oil and mix well. Simmer for another 5 minutes and put off the fire. While the chicken is being cooked, slice the potatoes and smear them with a pinch of turmeric and salt and keep aside. Heat oil in a pan and fry the cashew nuts and raisins. Set aside. Now fry the potatoes and then the rest of the onions till golden brown. Put all the fried items into the cooked chicken and mix well. Garnish with chopped coriander leaves and serve hot!