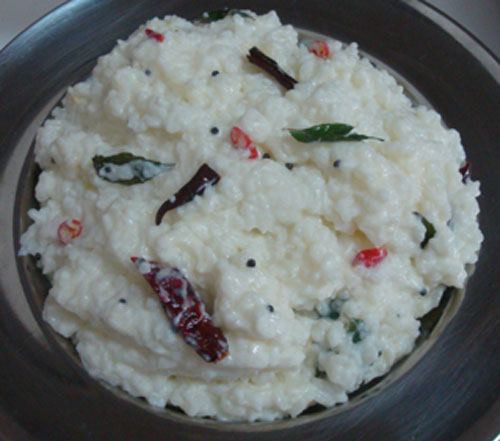 'Curd Rice is a comfort food for sure!  It is a quick fix dish which can be made using left over cooked rice.  And also a light meal, especially good for the sick.  'Curd Rice' is best served chilled, garnished with grated carrots, seedless green grapes or pomegranate arils.
Yummy 'Curd Rice' is off to SriLekha for the event "EFM –  Rice Series"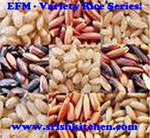 Ingredients
Well Cooked Raw Rice – 3 cups
Curd – 2 cups
Milk – 1/2 cup
Butter – 1 tsp
Green chilly – 1 chopped
Ginger – 1 tsp finely chopped
Mustard seeds – 1 tsp
Dry red chillies – 3 broken
Curry leaves – 2 sprigs
Asafoetida powder/ Perumkayam/ Hing – a pinch
Salt – to taste
Oil – 1 tbsp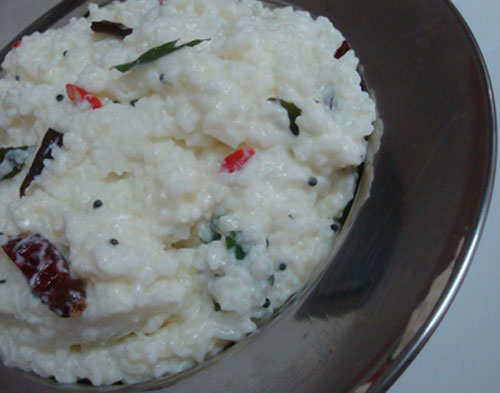 Method
Cook the rice well and add butter and milk.  Mix well and allow it to cool.  Add curd, green chilly (I used Bird's eye chilly), ginger and salt.  Mix well.  Heat oil in a pan and splutter mustard seeds.  Lower the heat and add curry leaves and red chillies.  Stir and switch off the flame and add asafoetida.  Pour it over the curd rice.  Mix well and serve with mango pickle or fried curd chillies (milagu kondattam).  Cheers!!!