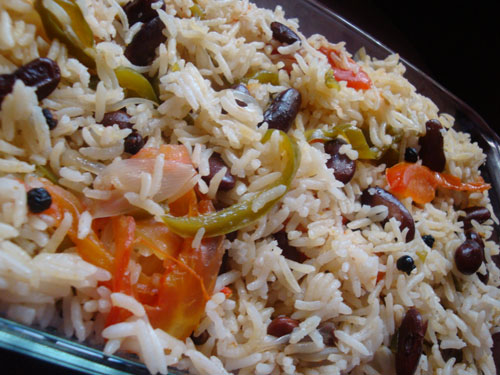 This recipe is for all those who love Mexican food!  'Mexican Beans and Rice' is a very tasty  dish which is quite easy to prepare.  Here I am posting my version of the recipe.
This recipe goes to Sunshinemom who is hosting "MMLA – 13" which was started by Susan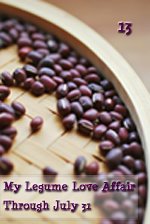 Ingredients
Basmati or Long grain rice – 2 1/2 cups
Dry Kidney Beans – 3/4 cup
Onion – 1 sliced
Tomatoes – 2 sliced
Green Capsicum – 1 sliced
Peppercorns – 1 tsp
Bay leaves – 3
Cumin/ Jeera powder – 1 tsp
Maggi Veg Cubes – 2
Salt – to taste
Water – 5 cups
Olive oil – 2 tbsp
Butter – 1 tsp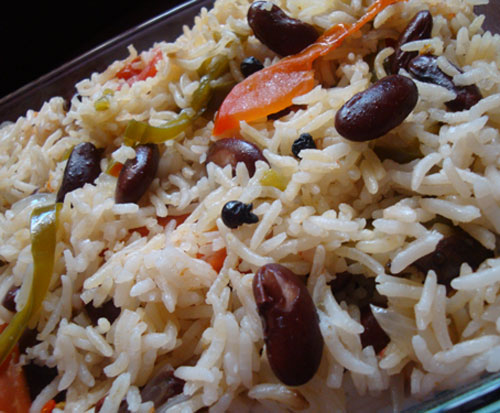 Method
Soak the beans in water for 12 hours or overnight.  Next day, wash it and cook in a pressure cooker with enough water for 12 minutes.  Do not add salt.  When it cools down, open the lid and drain the excess water and keep aside.  Wash and soak the rice in water for 20 minutes.  Pour water into the rice cooker and add rice and salt.  Let it cook.  Meanwhile, heat oil in a pan and splutter peppercorns.  Add bay leaves and onions.  Saute till the onions turn pink.  Now add the tomatoes and capsicum and saute for a minute.  Finally add the cumin powder and switch off the flame.  Transfer it to the rice cooker.  Also add the cooked beans, butter and crushed stock cube.  Mix well and cook till done.  Yummy 'Mexican Beans and Rice' is ready to be served!
All my Non Vegetarian friends can replace Veg stock cube with Chicken cube.  For best results, use real stock!