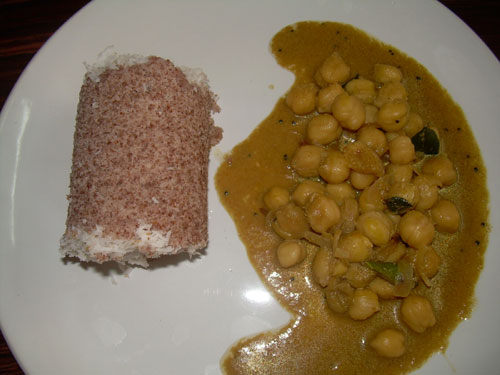 'Puttu and Kadala Curry' is a classic breakfast in Kerala, especially among Christians.  Usually, Black channa/ Bengal gram is used to make the curry to be served with 'Puttu'.  But I prefer 'Kabuli Channa Curry', because it has a sweet taste which makes the combination much more tastier!  'Puttu' can also be served with chicken or mutton curry, green gram curry or with pappads and small plantains.  It is a really healthy and yummy breakfast!
I am showing it off to Dhivya of Dil Se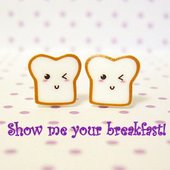 Puttu
I have used Chembavu Puttu flour which is made from Kerala brown rice.  Therefore the brown colour.  It is healthier and tastier than the white variety.  Puttu is made using the grainier variety rice flour.  You can also use the fine rice flour.  But care must be taken not to form lumps.  Puttu flour is readily available in all Indian stores and supermarkets.
Ingredients
Puttu rice flour – 1 cup
Grated coconut – 1/2 cup
Water – as required
Salt – to taste
Method
Add salt and to the water.  Take the puttu flour in a vessel and add the salt water little by little and mix gently using both the hands.  Break all the lumps that are formed and mix until it is like bread crumbs.  Keep aside.  Now fill the puttu kudam with water and let it boil.  Take the puttu kutti and put some coconut into it.  Then add puttu flour and then coconut.  Repeat the process to fill it.  The top layer should be coconut.  Keep it on top of the kudam and steam cook for 10 minutes.  Serve with Channa Curry.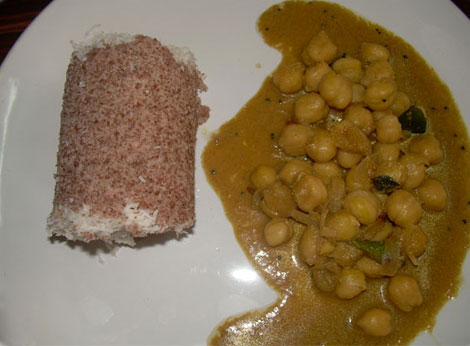 Kabuli Channa Curry
To make this curry, you can either soak half a cup of Channa in water overnight, cook it in a pressure cooker for 12 minutes, or use one cup of canned Channa.  This Channa curry can also be served with appam, idiyappam, rotis, puris or even bread!
Ingredients
Kabuli channa – 1 cup boiled
Onion – 1 medium sliced
Tomato – 1 medium chopped
Ginger – 1″ piece chopped
Garlic – 1 chopped
Green chillies – 2 chopped
Curry leaves – 1 sprig
Mustard seeds – 1/2 tsp
Channa masala – 1 tbsp
Turmeric powder – 1/2 tsp
Grated coconut – 1/2 cup
Water – 1 cup
Salt – to taste
Oil – 1 tbsp
Method
Grind the coconut to a fine paste.  Heat oil in a pan and splutter mustard seeds.  Add onion, ginger, garlic, green chillies and curry leaves.  Saute till onions turn light brown.  Add tomatoes and fry till the oil separates.  Now add channa masala and turmeric powder. Saute for a few seconds and add boiled channa, ground coconut paste, salt and water.  Mix well and allow it to simmer till the gravy is of medium thick consistency.  Serve it hot with Puttu and enjoy!