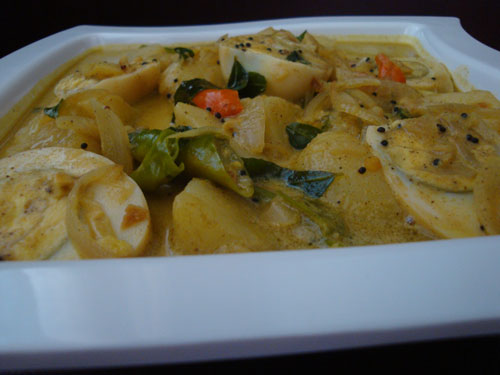 This is one of the traditional ways of cooking eggs among Kerala Christians and is known as 'Mutta Palu Curry'.  My grandmother and my mother used to make it more often than the usual 'Egg Masala'.  For me, this recipe comes handy when my freezer is empty :))  I mean, when there is no meat and fish available!  It can be made for breakfast, lunch and dinner since it goes well with appam, puttu, idiyappam, bread, rice or rotis!
Ingredients
Eggs – 6
Potatoes – 4 medium
Onion – 1 sliced
Ginger – 1″ piece chopped
Garlic – 2 chopped
Green chillies – 4 slit
Curry leaves – 2 sprig
Thin coconut milk – 2 cups
Thick coconut milk – 1/2 cup
Coriander powder – 3 tsp
Turmeric powder -1 tsp
Pepper powder – 1 1/2 tsp
Garam masala – 1 tsp
Mustard seeds – 1 tsp
Vinegar – 2 tbsp
Salt – to taste
Oil – 2 tbsp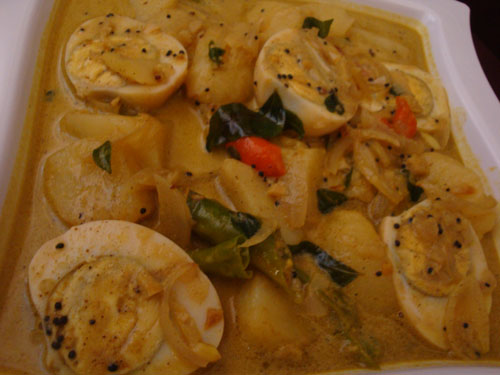 Method
In a pressure cooker, cook the eggs and potatoes with 2 cups of water for 5 minutes.  Let it cool.  Peel and quarter the potatoes.  Remove the shell and cut the eggs into halves.  Heat oil ( coconut oil is preferred) in a pan and add onions, ginger, garlic, green chillies and curry leaves.  Fry till the onions turn light brown.  Add all the spice powders and fry for a minute.  Now add the thin coconut milk, vinegar and salt.  When it boils, add the potatoes and simmer for 5 minutes.  Finally add the thick coconut milk, mix well and switch off the fire.  Place the eggs in a serving dish and pour the curry on top and serve.