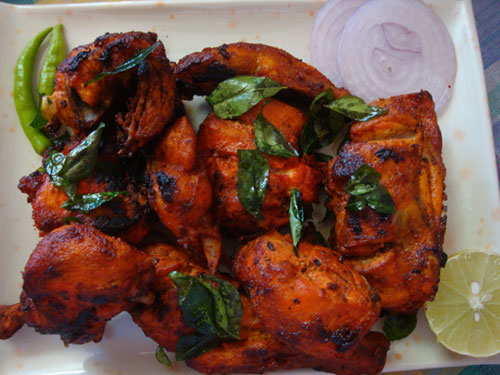 'Chicken 65' is a South Indian delicacy.  It is a spicy, deep-fried chicken dish which can be served as a snack, starter or side dish with pulao, parathas and rice.   It is so easy to prepare and can be refrigerated and fried as and when required!
Ingredients
Chicken – 1 kg
Yogurt – 1 cup
Chilly powder – 2 tsp
Turmeric powder – 1/4 tsp
Ginger-garlic paste -1 tbsp
Orange red color – 1/4 tsp
Curry leaves – 3 sprigs
Vinegar – 1 tbsp
Salt – to taste
Oil – for frying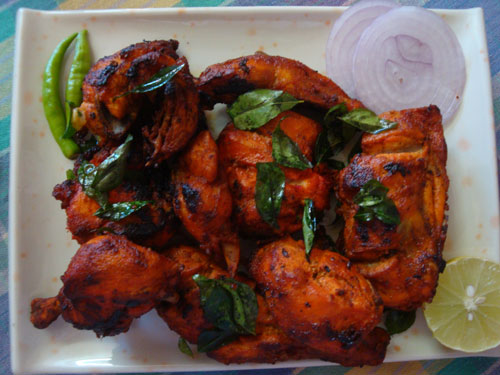 >/p>
Method
Marinate the chicken pieces with yogurt, chilly powder, turmeric powder, ginger-garlic paste, orange red color, vineger and salt.  Keep it refrigerated for an hour.  Add more chilly powder if you want to make it spicier. Heat oil in a pan and fry the chicken pieces on a medium flame.  Just before removing the fried chicken pieces from the oil, add few curry leaves so that the chicken absorbs the aroma of the curry leaves.  Fry the chicken in two or three batches and repeat the same process as mentioned.  Garnish with onion rings, green chillies and lemon wedges.  Yummy 'Chicken 65' is ready to be served!