Wish You All A Happy New Year!!!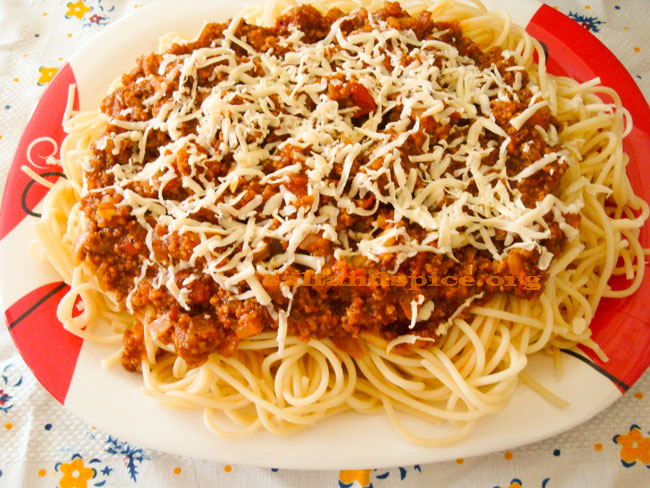 Ingredients
Spaghetti – 450 gm
Water – 4 litres
Oil – 1 tsp
Salt – 1 1/2 tsp
For The Sauce
Olive oil – 1 1/2 tbsp
Bay leaf – 1
Garlic – 4 minced
Onions – 2 chopped
Minced beef – 500 gm
Tomatoes – 3 chopped
Pepper powder – 3/4 tsp
Thyme – 1/2 tsp
Oregano – 1/2 tsp
Worcestershire sauce – 1 tbsp
Salt – to taste
Pasta sauce – 2 cups store bought
Parmesan cheese – as required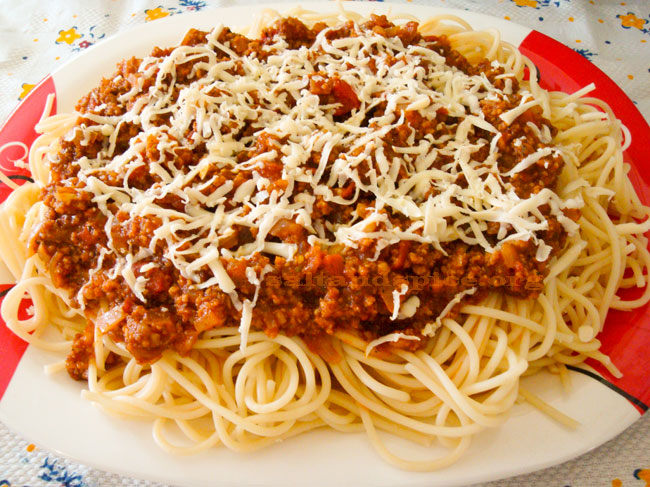 Method
Heat oil in a non-stick pan and add bay leaf, garlic and onions.  Saute' till the onions turn pink.  Add the minced beef and saute' for a minute.  Now add tomatoes, pepper powder, thyme, oregano, worcestershire sauce and salt to taste.  Cook covered for 15 minutes.  Add the pasta sauce and cook covered for another 10 minutes more.  Meanwhile, boil water in a stew pot and add oil and salt.  When it boils, add the spaghetti and cook uncovered for 12 minutes or until cooked.  Strain through a seive and wash in running tap water.  Drain and transfer to a plate.  Pour the bolognese sauce over it.  Serve hot with grated parmesan cheese.  Enjoy lip-smacking 'Spaghetti Bolognese' with your kids!