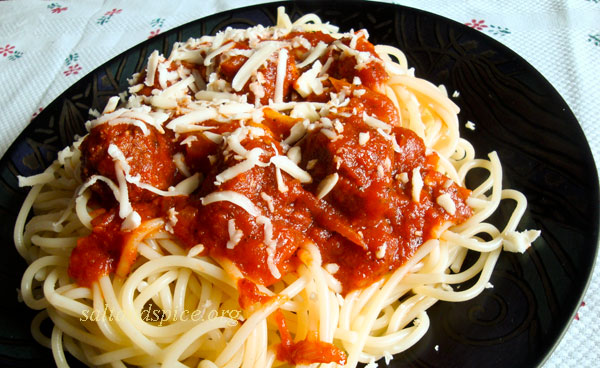 Wish All My Readers A Happy New Year!
Ingredients
Spaghetti – 450 gm
Water – 5 litres
Salt – 1 tsp
Oil – 1 tsp
Meat balls – 16 frozen
Oil – for frying
For The Sauce
Olive oil – 1 tbsp
Garlic – 2 tsp crushed
Onion – 1 medium chopped
Chilly flakes – 1/2tsp
Crushed pepper – 1/2 tsp
Pasta sauce – 2 cups store bought
Mc Cormick Italian seasoning – 1 tsp
Sugar – 1/2 tsp
Salt – to taste
Parmesan cheese – as required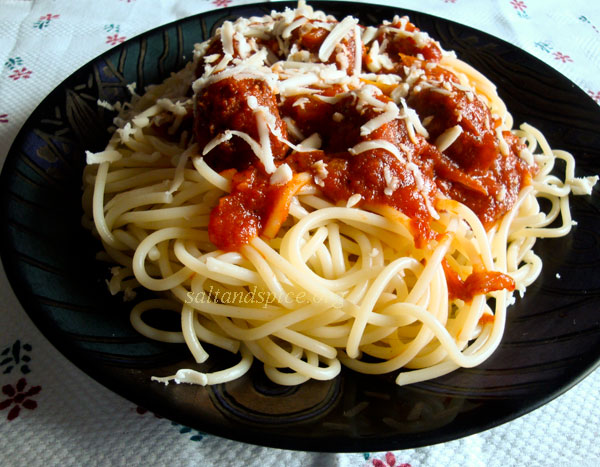 Method
Boil the water and add spaghetti, salt and 1 tsp of oil.  Cook for 14 minutes or till done.  Drain and wash the spaghetti over cold running water.  Deep fry the meat balls and keep aside.   Heat oil in a non-stick pan and add  garlic and onions.  When the onions turn light brown, add the chilly flakes, pepper, pasta sauce, seasoning, sugar and salt.  When it boils, add the meat balls and simmer for 2 minutes.  Place the spaghetti in serving plates and spread the meat balls with sauce over it.  Serve delicious 'Spaghetti With Meat Balls' garnished with grated parmesan cheese.  Enjoy with your kids!