Wish All My Readers A Happy Onam!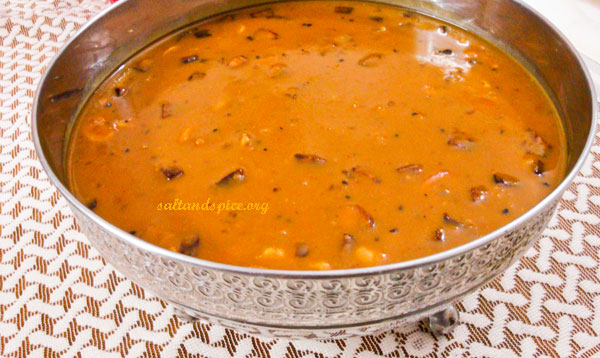 Ingredients
Kadala Parippu / Channa Dal – 2 cups
Sago – 3/4 cup
Jaggery – 600 gm
Water – 3 cups + 1 cup + 1/2 cup
Salt – 1/4 tsp
Ghee – 1 tsp + 3 tsp
Cardamom – 9
Dry Ginger – 2″ piece
Cumin seeds – 3/4 tsp
Sugar – 1  tsp
Black sesame seeds / Ellu – 1 tsp
Coconut pieces — 1/2 cup
Cashew nuts – 1 tbsp
Golden raisins / Kismis – 1 tbsp
Thin coconut milk – 2 cups + 2cups
Thick coconut milk – 1 cup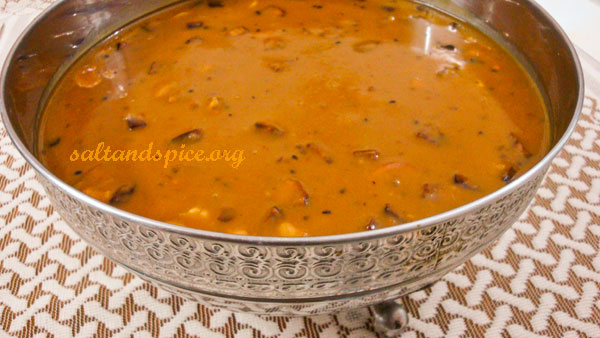 Method
Heat 1 tsp ghee in a non-stick pan and dry roast the dal till light brown in color.  Wash and put it in an 8 litre pressure cooker.  Add 3 cups of water and pressure cook for 15 minutes on a low flame, after the first whistle.  Cook the sago in 1 cup of water till translucent.  Melt the jaggery with 1/2 cup of water.  Strain and keep it aside.  Powder cardamom, dry ginger and cumin seeds along with 1 tsp of sugar in a mixer.  Mash the cooked dal with a ladle.  Let 1/4 th of the dal be as it is after mashing.  Pour melted jaggery and simmer till the mixture is reduced to half.  Add cooked sago, 2 cups of thin coconut milk and salt.  Mix well and let it reduce to half.  Now add 2 cups more of thin coconut milk.  Once it starts to boil, add powdered spices and mix well.  Finally add the thick coconut millk.  Mix well and switch off  the flame.  Heat 3 tsp of ghee in a pan and splutter sesame seeds.  Fry coconut pieces, cashew nuts and raisins and pour over the pradhaman.  Lip-smacking 'Kadala Parippu Pradhaman' is ready!  Enjoy with your loved ones!