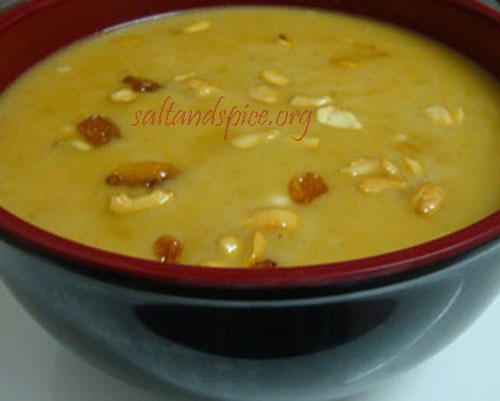 In Kerala, 'Payasam' is made during the festivals like 'Onam' and 'Vishu'.  There are so many different varieties of Payasams.  'Moong dal Payasam' is a favorite of my family and I also make it to celebrate birthdays of my loved ones.
'Cherupayar Parippu Pradhaman' is off to EC for the event "WYF: Festive Treat"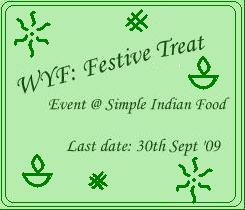 Ingredients
Green gram dal/ Moong dal – 125 gms
Jaggery – 1/2 kg
Water – 2 1/2 cups
Salt – 1/4 tsp (optional)
Thin coconut milk – 2 cups
Thick coconut milk – 1 cup
Cardamom – 4 powdered
Cashew nuts – 2 tbsp
Raisins -2 tbsp
Ghee – 3 tsp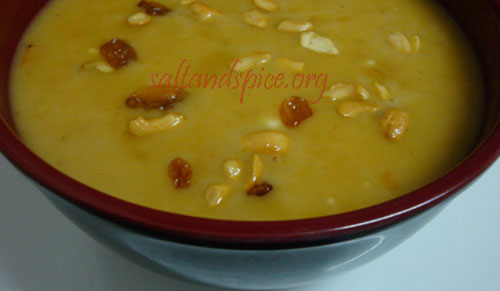 Method
Dry roast the dal in a non stick pan till it turns light brown.  Cook the dal along with water in a 5 litre pressure cooker for 10 minutes.  (Cook it on the small burner.)  Let it cool.  Melt the jaggery by adding half a cup of water.  Strain it and keep aside.  Open the lid of the cooker  and add the jaggery to it.  Mix well and let it simmer till the dal and jaggery are blended well.  Stir in between.  Pour the thin coconut milk into the cooker.  Mix well and allow it to simmer for another 10 minutes.  Stir occasionally.  Add the cardamom powder and salt.  Finally add the thick coconut milk and stir.  Switch off the flame.  In another pan, melt the ghee and fry cashew nuts and raisins.  Pour it over the Pradhaman and mix well.  Serve hot and enjoy!