Wish You All A Happy New Year!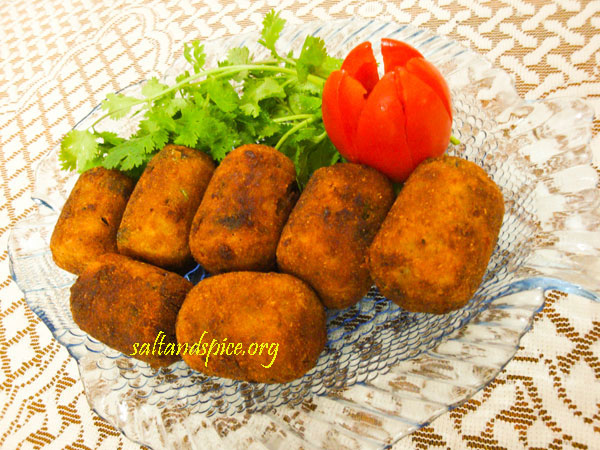 Ingredients
Boneless fish fillet – 300 gm
Water – 1/3 cup
Vinegar – 2 tsp
Turmeric powder – 1/4 tsp
Salt – 1/2 tsp
Oil – 1 1/2 tbsp
Onion – 1 big chopped
Green chillies – 3 chopped
Ginger – 1″ piece  chopped
Pepper powder – 1/2 tsp
Garam masala – 1/4 tsp
Coriander leaves – 1 tbsp  chopped (optional)
Boiled potaotes – 3 mashed
Salt – to taste
Corn flour – as required
Egg – 1 beaten
Breadcrumbs – as required
Oil – for frying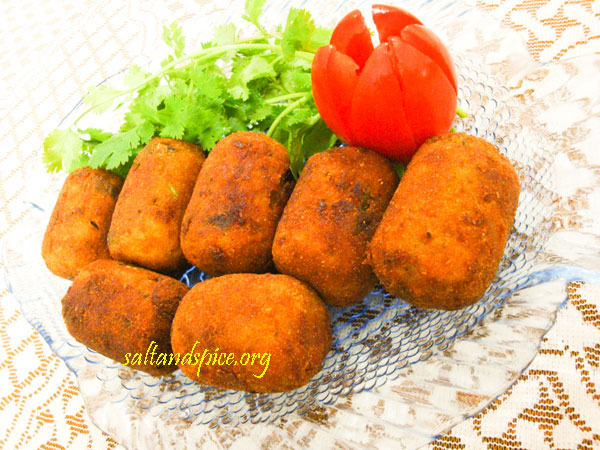 Method
Cook the fish fillet along with water, turmeric powder, vinegar and salt.  Evaporate excess water, if any.   Heat oil in a non-stick pan and add onions, green chillies and ginger.  Saute till the onions turn light brown.  Add pepper powder and garam masala.  Add coriander leaves and cooked fish.  Mix well and switch off the flame.  Add mashed potatoes and mix well.  When the mixture cools, make cylindrical shaped fish cutlets.  Coat them with corn flour.  Beat the egg with 1 tsp of water.  Dip the cutlets in egg and roll in breadcrumbs.  Deep fry the cutles in hot oil.  Serve delicious 'Fish Cutlet' with sauce of your choice.  Enjoy with your kids!