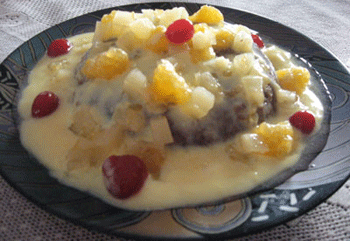 Today I am celebrating the Third Blog Anniversary of 'Salt and Spice'.  I thank all my blog friends and readers for your love and support all through these years!  My special thanks to all those young ladies who try my recipes, get back to me and thank me!  This is also my 125th post!
'Christmas Pudding/ Plum Pudding' is a traditional British steamed pudding served on Christmas Day.  This yummy pudding can also be served as a dessert on other occasions or as a refreshment on a hot Summer's day!
Ingredients
Plum cake – 250 gm powdered
Milk – as required
Butter – 1 tsp
Pineapple – 1/2 cup chopped
Sugar – 2 tsp
Water – 1/4 cup
Orange – 1/4 cup skin and seeds removed
Glace cherries – 7
For the Custard
Vanilla custard powder – 2 tbsp
Milk – 250 ml
Sugar – 3 tbsp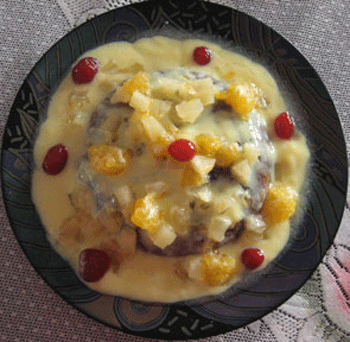 Method
Cook the pineapple with sugar and water till soft.  Allow it to cool and add the orange pieces.  Refrigerate for about 2 hours.  Make a custard with milk, sugar and custard powder. Let it to cool.  Keep it in the fridge for  about 4 hours.  Sprinkle milk over the powdered cake and mix without giving force.  The mixture should be like bread crumbs.  Smear butter on a pudding bowl and transfer the cake mixture into it.  Press firmly with hands.  Cover with a lid or aluminum foil and steam cook for 10 minutes.  Remove the foil and allow it to cool a bit.  Place a serving plate on the pudding bowl and invert the pudding on to the plate.  Pour the cold custard, chilled fruits and fruit juice over the pudding.  Garnish it with glace cherries.  Enjoy with your loved ones!!!
Please follow my Christmas Fruit Cake recipe to make the Plum Cake.  Usually the leftover cake is used to make this pudding.
You can microwave the pudding for 4 minutes instead of steaming.
The pudding can also be served with chilled cream or vanilla ice cream.
'Christmas Pudding/ Plum Pudding' is off to Srivalli for the event "Thanda Mela"

I am also sending 'Christmas Pudding' to Indrani for the event "Spotlight: Summer Foods & Drinks"