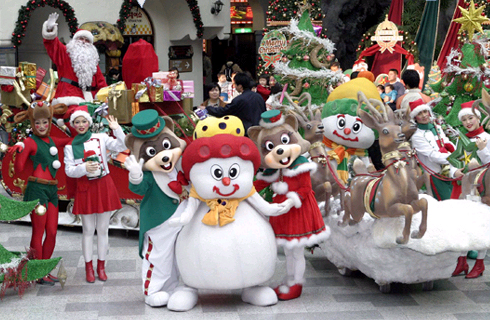 Finally the Christmas Season is here! From now on I will be posting recipes which can be made during the Christmas and New Year Celebrations. Hope all of you will enjoy them! Season's Greetings to all my blogger friends!!!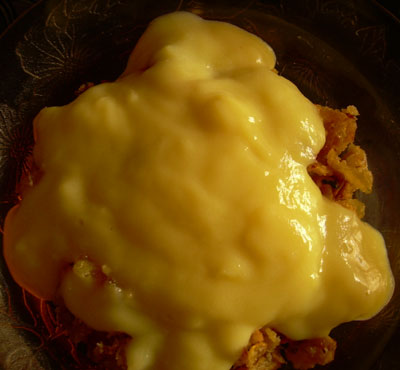 Ever since I heard of Cornflakes as the main ingredient for WBB #17 being hosted by Nags of For The Cook In Me, I was thinking about this delicious pudding! But I was wondering whether I could send it for WBB. She was only happy for me sending this pudding for the event!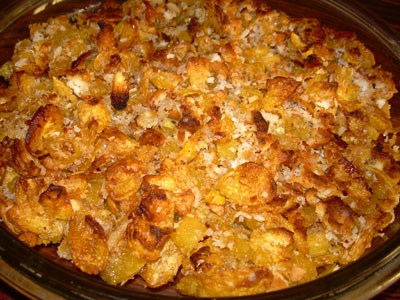 Ingredients
Pineapple – 1 cup chopped finely
Cinnamon – 1″ piece
Cloves – 2
Sugar – 1 tbsp
Lemon rind – 1/2 tsp grated
Butter – 2 tsp
Krack Jack (or any sweet and salt) biscuit – 3/4 cup crushed
Cornflakes – 1 cup crushed slightly
Grated coconut -1/4 cup
Sugar – 2 tbsp
For the Custard
Milk – 500 ml
Vanilla custard powder – 2 tbsp
Sugar – 6 tbsp
Method
Take the milk in a saucepan and add the custard powder and sugar. Keep the pan on medium flame and stir continuously till it boils. Let it boil for about 2 minutes. When it is thick, put off the fire. Cool and refrigerate. In a small pan, boil the pineapple pieces with 1/4 cup of water, cinnamon and cloves till it becomes soft. Add 1 tbsp sugar and let the excess water evaporate. Put off the flame and add the lemon rinds. Remove the cinnamon and cloves and keep aside. In a bowl, mix together crushed biscuits, cornflakes, grated coconut, sugar and butter. Add the cooked pineapple and mix well. Transfer to a pie dish and bake in a preheated oven at 170 C for 5 minutes. Cool to room temp and serve with chilled custard!