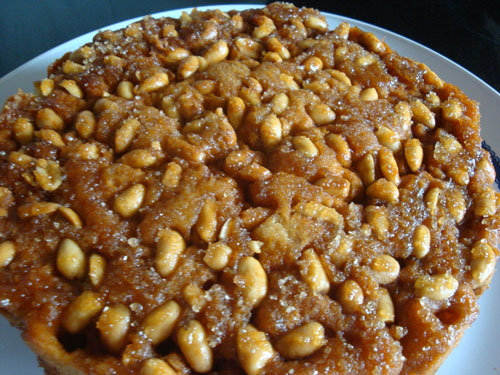 Wish You All A Very Happy New Year!
Hope you all had an enjoyable time during Christmas and throughout the Holiday Season…!  'Peanut Butterscotch Cake' is a delicious cake which you can make for the New Year celebrations.  I am sure all your friends and family will like it!
Ingredients
Butter – 45 + 120g
Brown Sugar – 1/3 + 1 cups
Roasted Peanut halves – 1/2 cup
All purpose flour – 1 1/2 cups
Baking powder – 1 1/2 tsp
Vanilla essence – 1 tsp
Milk – 3/4 cup
Salt – 1/4 tsp
Eggs – 2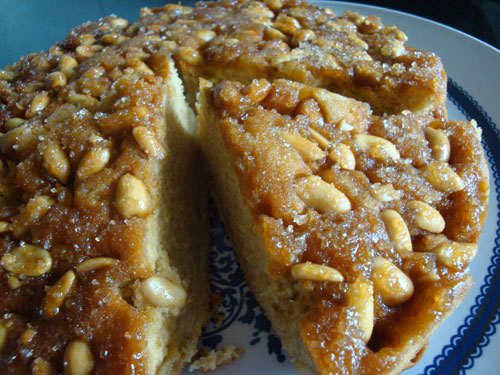 Method
Preheat the oven to 180 degree C/ 350 degree F.  Grease an 8 inch round cake tin and line the base and side with baking paper.  Soften 45 g of the butter and add 1/3 cup of brown sugar to it.  Mix until smooth and creamy.  Spread it over the base of the tin.  Arrange the peanut halves, flat sides up over this mixture.  Mix flour with baking powder and salt.  Combine the remaining butter and sugar in a bowl.  Add eggs one at a time and beat with an electric beater. Add vanilla essence.  Fold in the flour, alternating with milk.  Spoon the mixture into the prepared tin and smooth the top with a spatula.  Bake for 30 minutes or until a skewer comes out clean when inserted in the center of the cake.  Set aside for 15 minutes and then turn onto a serving plate.  Yummy 'Peanut Butterscotch Cake' can be served warm or cold.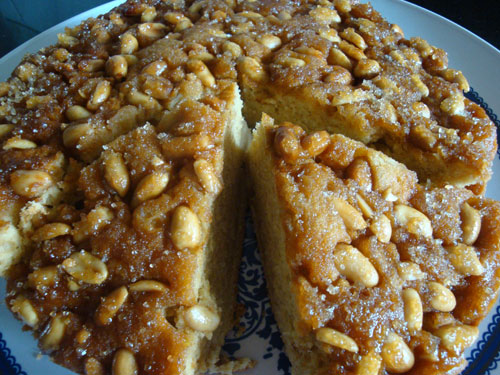 I am sending 'Peanut Butterscotch Cake' to Sara for the event "Cakes n Cookies" and to Divya for the event "Show Me Your Cake"