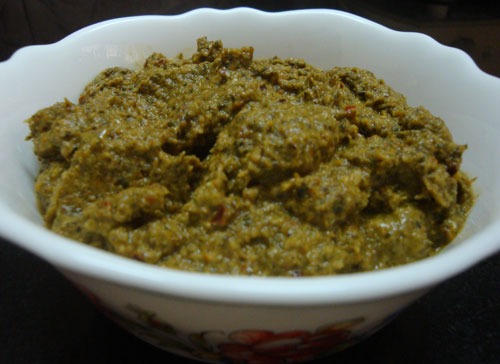 'Pudina Chutney' is a South Indian recipe which has Mint as the main ingredient.  Mint along with other spices makes this a very healthy and nutritious Chutney.  Pudina Chutney is a very good side dish for Idly, Dosa, Rice and even Rotis!
This Spicy Chutney is off to Srivalli for the event "Spicy Fiery Chutneys"
Ingredients
Mint leaves/ Pudina – 1 bunch
Garlic – 1 tbsp
Onion – 1 sliced
Coconut pieces – 1/4 cup
Dry red chillies – 6
Curry leaves – 2 sprigs
Tamarind – 1 gooseberry size
Mustard seeds – 1/4 tsp
Salt – to taste
Oil – 1 tbsp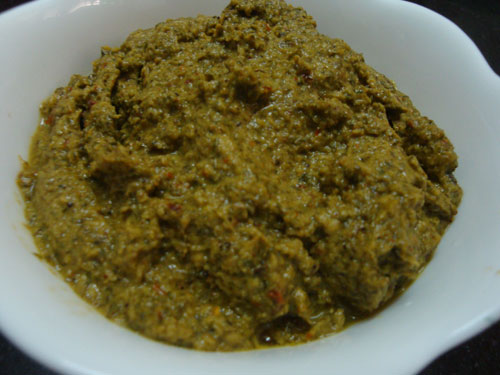 Method
Heat oil in a pan and splutter mustard seeds.  Add onions, garlic, dry red chillies, curry leaves and coconut pieces.  Fry till the onions turn light brown.  Add the mint leaves and fry for another 2 minutes more.  Allow it to cool.  Grind it in a mixer along with tamarind and salt to form a fine paste, adding very little water.
Awards
My dear friends Sarah and Sangeetha have given me this cute HugMug award.  Thank you dearies!!!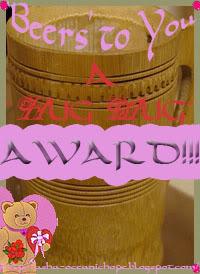 Dearest Sangeetha has passed me these beautiful awards.  Thanks a bunch Sangeetha!