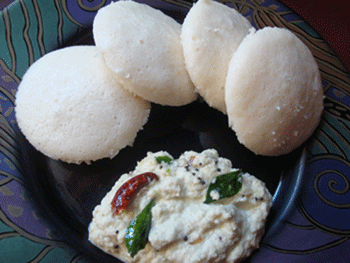 I am sending this authentic South Indian Breakfast to srishkitchen for the event "EFM – Breakfast Series"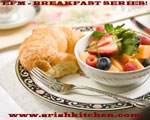 Idli
Ingredients
Idli rice/ Boiled rice – 2 cups
Dosa rice/ Raw rice – 1 cup
Urad/ Black gram (skinless) -1 cup
Uluva/ Methi/ Fenugreek seeds – 1/2 tsp
Salt – to taste
Method
Wash and soak the rices together and urad and methi, separately in water for atleast 6 hrs.  Grind them together in a grinder till you get a slightly coarse batter.  The batter should be thick.  Use the urad-methi soaked water for grinding.  This will help the batter to ferment faster and the result would be softer Idlis!  Add salt and mix well.  Keep the batter covered overnight or for 12 hrs.  Next morning, apply some oil to the Idli moulds and steam them in the Idli cooker or Pressure cooker for 8 minutes.  If you are using the Pressure cooker, do not put the whistle while steaming.  Serve the Idlis with delicious coconut chutney!
Coconut Chutney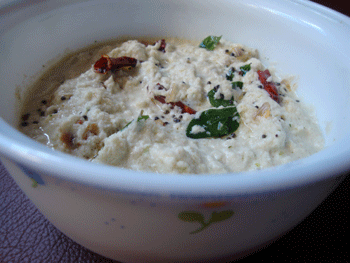 This is one of the tastiest coconut chutneys I have ever had!  I got this recipe from an old lady who used to come to my house selling all kinds of roasted grams and peanuts.  For the past 20 years I am making this chutney and I absolutely love it!
Ingredients
Grated coconut – 1 cup
Roasted Chana dal/ Pottu Kadala – 2 tbsp
Green chillies – 2
Onion – 1/2 tbsp chopped
Tamarind – 2 small pieces
Salt – to taste
Curry leaves – 4
For Tempering
Mustard seeds – 1/2 tsp
Onions – 1 tbsp chopped
Curry leaves – 6
Dry red chillies – 2 broken
Oil – 1 tbsp
Method
In a mixer, grind all the ingredients together with water to form a fine paste.  Transfer to a serving bowl.  Heat oil in a pan, and splutter mustard seeds.  Add onions, dry red chillies and curry leaves.  Saute till the onions turn light brown.  Switch off the flame and pour it over the chutney.  Mix well and serve with Idli or Dosa.  Cheers!