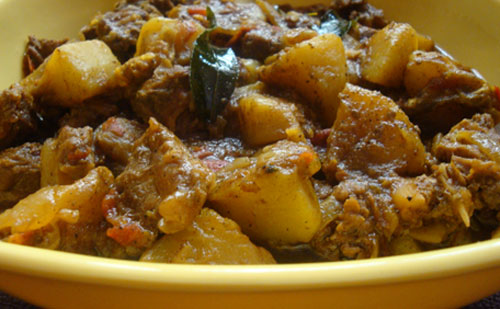 I love 'Breadfruit' and it brings back nostalgic memories of me growing up in Kerala.  My grandmother used to prepare different dishes using 'Breadfruit'.  'Breadfruit and Beef Curry' is one among them.  You can serve this delicious curry with rice, appam, puttu, idiyappam, porotta or chappathi.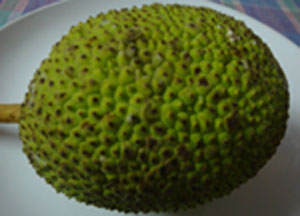 Ingredients
Beef – 1 kg
Breadfruit – 1
Ginger – 2″ piece chopped
Green chillies – 6 slit
Salt – to taste
Onions – 2 sliced
Garlic – 4 chopped
Curry leaves – 2 sprigs
Tomatoes – 3 medium chopped
Meat masala powder – 3 tsp
Pepper powder – 2 tsp
Turmeric powder – 1 tsp
Garam masala – 1 tsp
Oil – 2 tbsp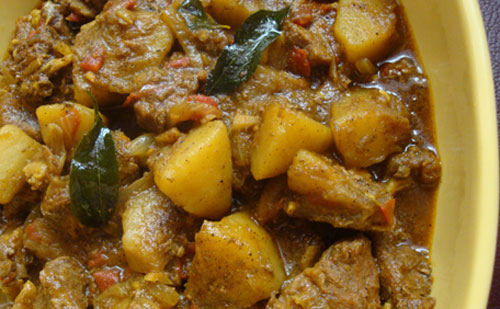 Method
Wash and cut the beef into cubes.  Transfer it to a pressure cooker and add ginger, green chillies and salt.  Pour enough water to cover the beef and cook till done.  It takes around 15 to 30 minutes depending upon the beef you are using.  Meanwhile, peel and wash the breadfruit and cut it into cubes.  Soak them in water, or else they will turn brown.  Boil 2 cups of water in a vessel and add the breadfruit to it.  Close with a lid and cook on medium flame till they are soft and tender.  Heat oil in a pan and saute the onions, garlic and curry leaves.  Add the tomatoes and fry till oil separates.  Now add all the spice powders and saute till aroma comes out.  Pour the cooked beef along with the water into the pan.  Also add the cooked bread fruit.  Mix well and close with a lid.  Let it simmer for 10 minutes till the gravy is thick.  Serve hot and enjoy with your loved ones!