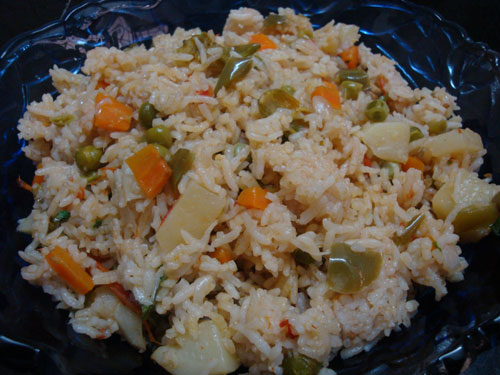 'Vegetable Pulao' is an all time family favorite!  It is a North Indian vegetarian rice dish.  Here I am posting a simple method to make a really tasty 'Vegetable Pulao'.  Serve it with any chicken, mutton or veg side dish or simply enjoy it with raita, pickle and pappad!
I am sending this recipe to Priya for the event "AFAM- Bell Peppers" which was initiated by Maheswari.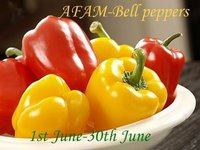 Ingredients
Basmati rice – 2 cups
Water – 3 1/2 cups
Frozen green peas – 1/2 cup
Green capsicum – 1 cubed
Carrots – 2 cubed
Potato – 1 cubed
Tomatoes – 3 sliced
Onion – 1 sliced
Green chillies – 5 slit
Ginger garlic paste – 1 tbsp
Coriander leaves – 2 tbsp chopped
Garam masala – 1 tsp
Cardamom – 3
Cinnamon – 2″ piece
Cloves – 3
Bay leaves – 2
Salt – to taste
Oil – 2 tbsp
Ghee – 2 tsp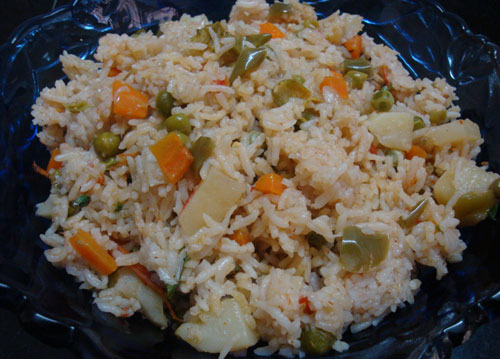 Method
Wash and soak the rice in water for 20 minutes.  Heat oil and ghee together in a pressure cooker.  Add the whole spices and fry for a minute.  Then add the onions and green chillies and fry till the onions are light brown.  Put the ginger garlic paste and fry.  Now add the tomatoes and fry well.  Add all the vegetables and garam masala.  Saute for about 5 minutes.  Strain the rice and add to the cooker.  Mix well and add salt.  Pour water over it.  Close the lid and when the first whisle comes, reduce the flame and cook for 4 minutes.  Switch off the flame and let it cool.  Open the cooker and add coriander leaves.  Serve it with your favorite side dish.  Cheers!