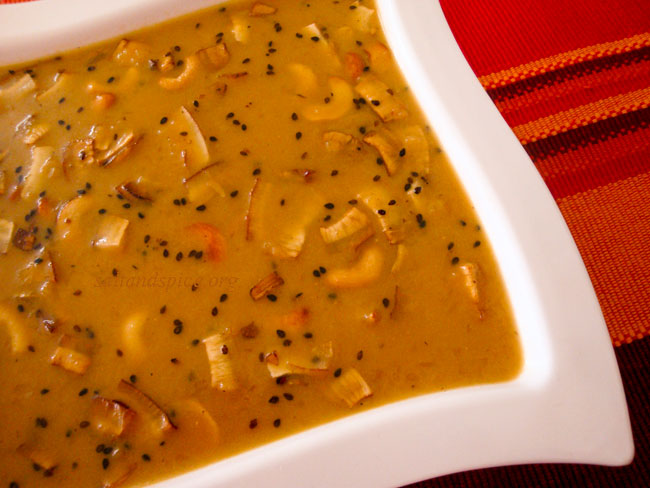 Happy Onam!!!
Ingredients
Rice ada – 2 cups (store bought)
Water – 6 cups
Jaggery – 600 gm
Water – 1/2 cup
Thin coconut milk – 2 cups
Thick coconut milk – 1 cup + 1 cup
Salt – 1/4 tsp
Cardamom – 8 powdered
Dry ginger – 1 tsp powdered
Cumin powder – 3/4 tsp
For Frying
Ghee – 2 tbsp
Sesame seeds – 2 tsp
Coconut pieces – 1/ cup thinly sliced
Cashew nuts – 2 tbsp broken
Kismis – 2 tbsp
Method
Soak the rice ada in hot water for 15 minutes.  Drain and cook it in 6 cups of water.  Melt the jaggery with 1/2 cup of water.  Strain it and pour it into a thick bottomed pan or a 5 litre pressure cooker.  Add the cooked ada and cook on a medium flame for 10 minutes.  Add the thin coconut milk and salt.  Simmer till it reduces to half the quantity.  Stir in between.  Now add 1 cup of thick coconut milk and simmer for another 5 minutes.  Add the cardamom, dry ginger and cumin powders.  Finally add 1 cup of thick coconut milk and switch off the flame before it starts to boil.  Fry the mentioned ingredients in ghee and pour over the pradhaman.  Delicious 'Ada Pradhaman' is now ready.  Enjoy with your loved ones!