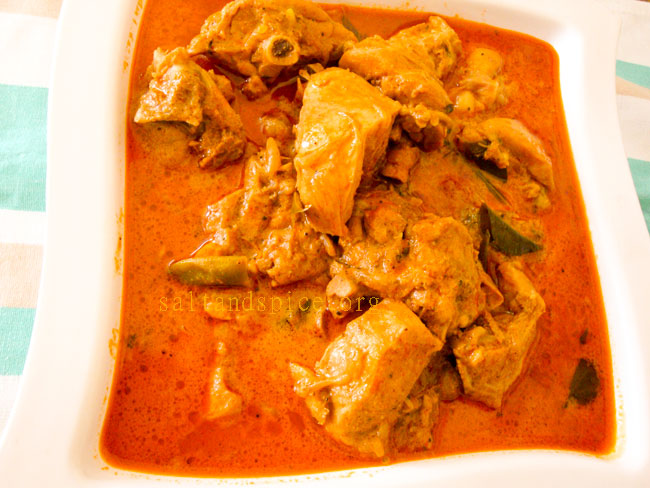 Wish All My Readers A Happy Easter!
Ingredients
Chicken – 500 gm cut into pieces
Coconut oil – 2 tbsp
Ginger – 1 tbsp crushed
Garlic – 1 tbsp crushed
Onions – 1 big sliced
Green chillies – 2 slit
Curry leaves – 2 sprigs
Coriander powder – 1 1/2 tbsp
Chilly powder –  1 tsp
Kashmiri chilly powder – 1 tsp
Turmeric powder – 1/4 tsp
Pepper powder – 1/2 tsp
Garam masala – 1/2 tsp
Fennel powder / Perumjeeraka podi – 1/4 tsp
Water – 1/2 cup
Salt – to taste
Thick coconut milk – 1/2 cup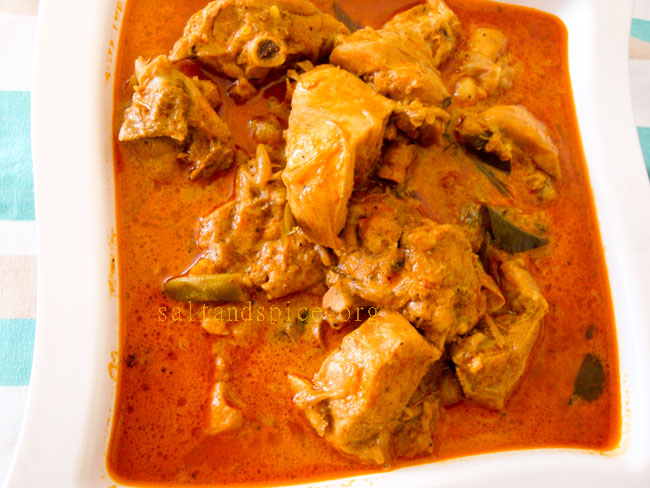 Method
Heat oil in a non-stick pan and add the crushed ginger and garlic.  Stir for a few seconds and add the onions, green chillies and curry leaves.  Saute' till the onions turn golden brown.  Add the coriander powder, chilly powder, kashmiri chilly powder, turmeric powder and pepper powder.  Sprinkle some water and saute' till the aroma comes out.  Add the chicken pieces, water and salt to taste.  Mix well and cook covered on a low flame till the chicken is done.  Add the garam masala and fennel powder, and simmer till the oil separates.  Finally add the thick coconut milk, mix well and switch off the flame before it starts to boil.  Serve delicious 'Nadan Chicken Curry / Country Chicken Curry' with rice, bread, appam, puttu, idiyappam, pathiri, porotta or chapathi.  Enjoy!