Wish You All A Happy Easter!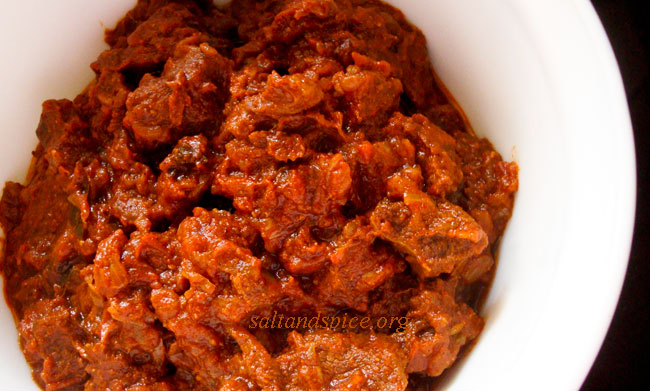 Ingredients
Beef cubes – 500 gm
Onions – 2 chopped
Curry leaves – 2 sprigs
Tomatoes – 2 chopped
Water – 1/2 cup
Salt – to taste
Oil – 2 tbsp
For Grinding
Chilly powder – 3/4 tbsp
Kashmiri chilly powder – 1 1/4 tsp
Pepper powder – 1/2 tsp
Turmeric powder – 1/4 tsp
Garam masala – 1/2 tsp
Mustard seeds – 1 tsp
Cumin seeds – 1/2 tsp
Fenugreek seeds – 1/8 tsp
Ginger-garlic paste – 2 tbsp
Sugar – 1/2 tsp
Vinegar – 2 tbsp
Method
Grind the above mentioned ingredients to a fine paste.  Marinate the beef cubes with this paste and salt, for 2 hrs.  Heat oil in a pressure cooker and add the onions and curry leaves.  Fry till the onions turn light brown.  Add the tomatoes and fry till they are soft.  Add the marinated beef and fry for 5 minutes.  Add 1/2 cup of water to the left over masala and pour over the beef mixture.  Pressure cook till the beef is done.  Delicious 'Beef Vindaloo' is ready to be served.  It goes well with rice, sannas, appam, chappathi and bread.  Enjoy!