Wish You All A Merry Christmas!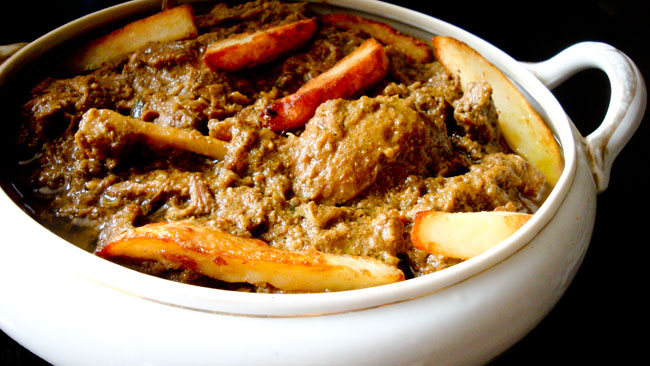 Ingredients
Country duck – 800 gm cut into big pieces
Coconut oil – 2 tbsp
Cloves – 3
Cardamom – 2
Cinnamon – 2″ piece
Onions – 2 medium sliced
Garlic – 1 tbsp chopped
Ginger – 1 tbsp chopped
Green chillies – 3 slit
Curry leaves – 2 sprigs
Coriander powder – 3 tsp
Turmeric powder – 1/2 tsp
Pepper powder – 1 1/4 tsp
Garam masala – 1/2 tsp
Vinegar – 2 tsp
Salt – to taste
Thin coconut milk – 1 1/2 cups
Thick coconut milk – 1/2 cup
Potatoes – 2 cut into wedges
Oil – for frying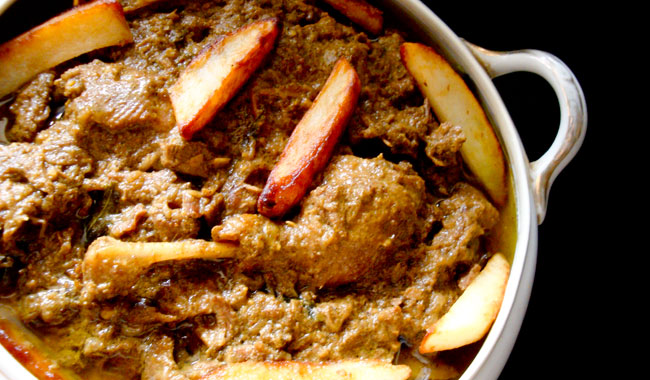 Method
Heat oil in a pressure cooker and add the whole spices.  Add the onions, garlic, ginger, green chillies and curry leaves.  Fry till the onions turn light brown.  Add the spice powders, sprinkle some water and fry till the aroma comes out.  Add the thin coconut milk, duck pieces, vinegar and salt to taste.  Mix well and cook covered for 20 to 40 minutes after the first whistle or till done.  Meanwhile, deep fry the potato wedges till golden brown and keep aside.  Open the cooker and add the thick coconut milk.  Mix well and switch off the flame before the curry starts to boil.  Garnish lip-smacking 'Duck Pepper Masala' with fried potato wedges and serve hot with appam, puttu, idiyappam, chapathi, porotta, pulao, rice or bread.  Enjoy with your loved ones!