Ingredients
Frozen Corn – 3/4 cup
Methi leaves / Menthi keerai – a bunch (take only the leaves)
Basmati Rice – 2 cups
Water – 4 cups
Cardamom – 4
Cinnamon – 2″ piece
Cloves – 4
Bay leaf -1
Onion – 1 sliced
Green chillies – 2 slit
Ginger Garlic paste – 1 tsp
Tomato paste – 4 tsp
Pepper powder – 1/4 tsp
Maggi chicken/veg stock cube – 1 crushed
Salt – to taste
Ghee – 1 tsp
Oil – 1 tbsp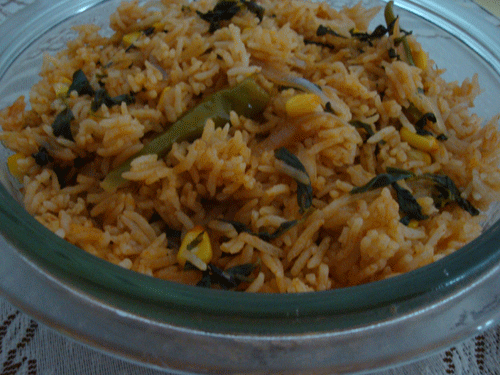 Method
Clean, wash and drain the methi leaves.  Wash and soak the rice in 4 cups of water for 20 minutes.  Heat oil and ghee in a non-stick pan and add the whole spices.  Then add the onions and green chillies. Fry till the onions turn light brown.  Add the ginger-garlic paste and fry on low heat for 2 minutes.  Now add the tomato paste and fry for one more minute.  Add the methi leaves and fry for 5 minutes.  Switch off the flame.  Transfer the rice to a rice cooker along with the water.  Add the methi mixture, corn, crushed stock cube, salt and pepper powder.  Mix well and cook till done.  Yummy 'Corn and Methi Pulao' is ready to be served!  Serve it with any side dish of your choice or with curd, pickle and paddads.  Enjoy with your loved ones!!!
If you are using a pressure cooker, use a 5 litre cooker and cook for 5 minutes on low flame after the first whistle.
You can use two chopped tomatoes instead of tomato paste.
'Corn and Methi Pulao' is going to participate in Priya's event "CWS – Cardamom Seeds"