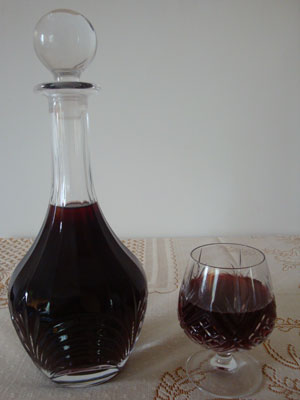 In Kerala, Homemade Grape Wine is a must in every Christian family during Christmas season.  It is usually served with Christmas Fruit Cake.  Here I am posting the recipe for a very simple and delicious Grape Wine made with store bought Grape juice.  The wine will taste better and better as it matures.  So dear friends, start making your wine at the earliest so that delicious Grape Wine will be ready for Christmas…!
Ingredients
Grape juice – 1 litre  with no sugar added
Sugar – 500 gm
Water – 500 ml boiled and cooled
Dry yeast – 1 1/2 tsp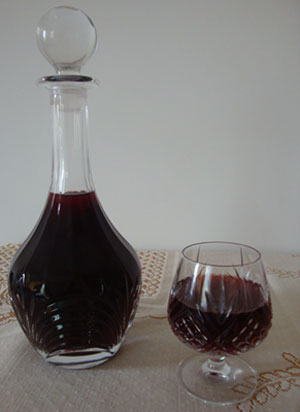 Method
Mix yeast in 1/4 cup of warm water with a tea spoon of sugar.  Close it with a lid and keep aside for 15 minutes.  Take a  jug and pour the grape juice into it.  Add sugar and water.  Mix well till the sugar is dissolved.  Add the yeast mixture and mix well.  Pour the grape juice mixture into a 'Bharani' or Ceramic jar.  Close the lid and cover it with a cloth and put a rubber band around it.  Place the jar in a cupboard or any dark place.  For the first 3 days, stir it once a day.  Keep the wine for another 7 days undisturbed.  On the 10th day, pour the grape wine into a jug without disturbing the sediments in the bottom.  Discard the sediments and clean the jar.  Pour the grape wine back into the jar and keep for another 7 days more.  Without disturbing the sediments, pour the wine into bottles and store in a cool dark place.  Serve homemade grape wine with Christmas fruit cake and enjoy with friends and family!