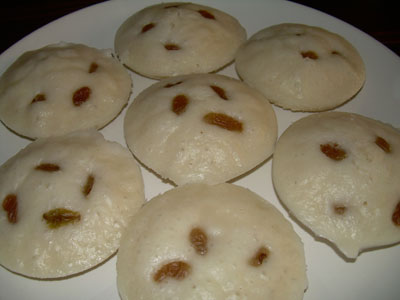 This is an easy way to prepare Vattayappam, which is a Kerala Christian delicacy. Vattayappam is one of the breakfast dishes made on Christmas morning. It is sweet and yummy and doesn't need any side dish along with it.
It is also served as a snack. Mini Vattayappams were made in the idli maker and hence the shape of idlis. This recipe does not require any grinding. I will post the authentic Vattayappam recipe later…

What you need
Fine rice flour – 2 cups
Rava or semolina – 1 dsp
Water – 1 cup
Dry yeast – 1 tsp
Warm water – 1/2 cup
Sugar – 1 tsp
Coconut milk powder – 25 gms
Sugar – 4 tbsp
Aniseed powder – 1/8 tsp
Salt – as required
Water – as required
Raisins – few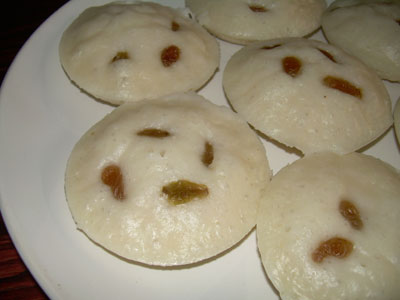 Method
In a small pan, boil rava and 1 cup of water. Keep on stirring till it becomes thick. Keep aside and let it cool. Take warm water in a cup, add yeast and 1 tsp sugar. Mix well and keep aside covered for half an hour. In a vessel, mix together rice flour, sugar, yeast, coconut milk powder, aniseed powder and water. Add the rava porridge and make a thick batter of idli batter consistency. It should not be watery. Keep the batter covered overnight or for 8 hrs. In the morning, add enough salt to the batter and mix well. Boil water in a pressure cooker or idli cooker. Smear oil on the idli maker and pour batter into each mould. Place 4 raisins each on top. Insert the stand into the cooker. Cover and let it cook for 8 minutes. If you are using the pressure cooker, do not put the weight. Open the lid and let it cool for 5 minutes before transferring the Vattayappams to a serving dish.