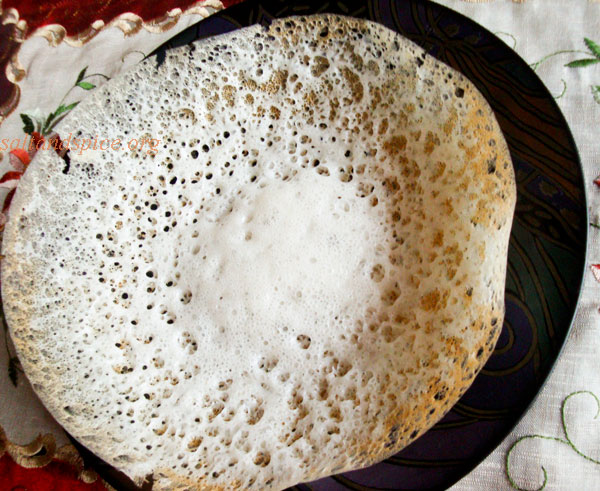 Here I am posting one of Kerala's authentic breakfast recipes 'Palappam'.  In olden days, it was made using toddy which we now substitute with yeast. It can be served with mutton /chicken /beef stew or egg curry. Vegetarians can serve appam with vegetable stew or kadala curry. Kids will love the appam with coconut milk and sugar!
Ingredients :
Raw rice – 2 cups
Cooked rice – 1 cup
Grated coconut – 1 cup
Water – 1 cup
Yeast – 1/2 tsp
Sugar -1 tsp
Warm water – 1/2 cup
Salt – 1 tsp
Sugar – 1 tbsp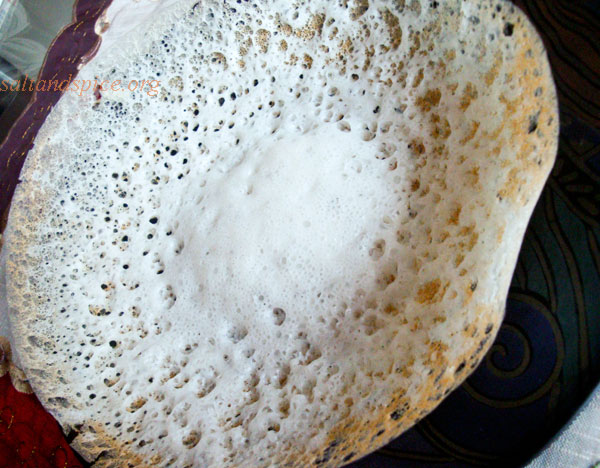 Method :
Soak the raw rice in water for six hours. Dissolve 1 tsp of sugar and 1/2 tsp yeast in 1/2 cup of luke warm water for 10 min. Grind the cooked rice and grated coconut along with the yeast water.  Add the soaked rice  to this paste, and grind it to a fine paste by adding 1 cup of water.  The batter should be of dosa consistency. Leave it for fermentation overnight. The next day morning, add the salt and sugar.  Heat a non-stick kadai or appa chatti. Pour a large spoonful of the batter. Rotate the pan in a circular manner so that the appam becomes the shape shown in the picture. Keep covered on a low flame for 2 min. Appam is ready !!!
If you are in a hot place like Kerala, it would only take 4 hours for fermentation.