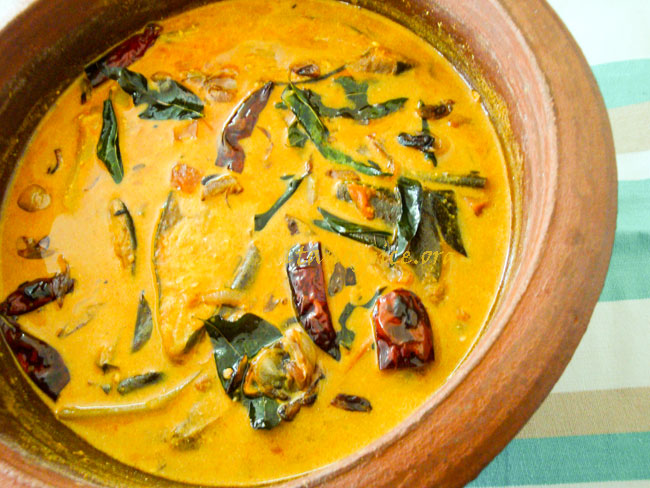 Ingredients
Pomfret – 500 gm sliced
For Garnishing
Coconut oil – 1 tbsp
Small onions – 4 sliced
Curry leaves – 1 sprig
Dry red chillies – 3 broken
For the Curry
Coconut oil – 1 1/2 tbsp
Fenugreek seeds / Uluva – 1/8 tsp
Small onions – 6 sliced
Green chillies – 2 slit
Ginger – 1 " piece chopped
Curry leaves – 1 sprig
Tomato – 1 small chopped
Chilly powder – 2 tsp
Kashmiri chilly powder – 1 tsp
Turmeric powder – 1/2 tsp
Coriander powder – 2 tsp
Aniseed powder / Perumjeerakapodi – 1/8 tsp
Thick curd – 1 1/2 tbsp not too sour
Thin coconut milk – 1 cup
Raw mango pieces – 1/2 cup skin removed
Thick coconut milk – 1/2 cup
Salt to taste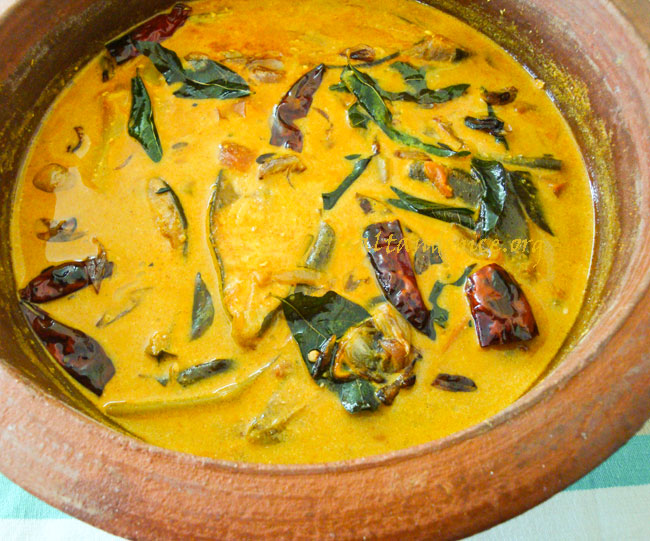 Method
Heat oil in a clay pot or non-stick pan, and add small onions, curry leaves and dry chillies.  Fry till the onions turn golden brown in color.  Strain and keep aside.  Add 1 1/2 tbsp more of oil to the same pot and splutter fenugreek seeds.  Now add the small onions, green chillies, ginger and curry leaves.  When the onions turn pink, add the tomatoes and salt.  Fry well and add the spice powders.  Sprinkle some water and fry till the aroma comes out.  Beat the curd well and add to the pot.  Fry for a minute on a low flame.  Add the thin coconut milk and mix well.  When it boils, add the fish pieces.  Cook covered for 5 minutes.  Add the raw mango pieces.  Cook covered on a low flame till the oil starts to float on top of the curry.  Now add the thick coconut milk, mix gently and switch off the flame.  Garnish with the fried items.  Lip-smacking 'Fish Mango Curry' is now ready!  Serve it with rice, rotis, idli, dosa, appam, puttu, idiyappam, pathiri or bread.  Enjoy with your loved ones!
You can use any fish of your choice to make this curry.
Add more or less mango pieces according to the sourness.