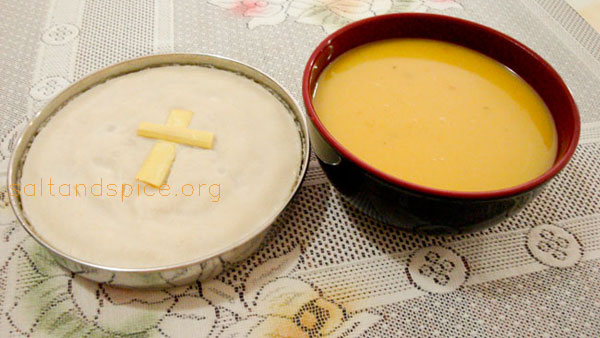 'Pezhaha Appam and Pal' is made by Kerala Christians on 'Maundy Thursday' in remembrance of the 'Last Supper', when Jesus broke the Bread and shared the Bread and Wine with his disciples, establishing 'The Holy Eaucharist'.  The head of the family cuts the 'Pezaha Appam', dips it in the 'Pal' and shares it with all the family members.
Ingredients
For Pezhaha Appam

Fine rice flour – 2 cups
Urad dal – 3/4 cup
Grated coconut – 1 cup
Water – as required
Salt – to taste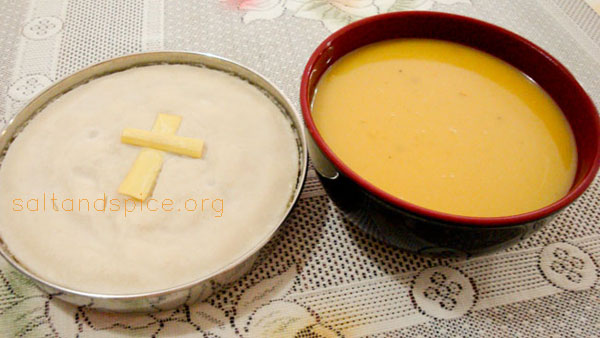 Method
Wash and soak the dal in water for 8 hrs or overnight.  Grind it to a fine paste using the same water, as required.  Grind the grated coconut to a fine paste.  Add the ground dal and coconut to the rice flour.  Add salt and water as required to form a smooth batter of idli or pancake consistency.  See that there are no lumps in the batter.  Use an egg beater to mix the batter.  Keep the batter covered for an hour.  Grease two steel plates with oil and pour the batter into the plates.  Steam cook for 20 to 25 minutes or till done.
For The Pal
Jaggery – 500 gm
Water – 1/2 cup
Fine rice flour – 1/4 cup
Thin coconut milk – 5 cups
Thick coconut milk – 1 cup
Dry ginger powder – 1 tsp
Cardamom – 6 powdered
Method
Melt the jaggery with half a cup of water.  Strain and keep aside.  Pour the thin coconut milk into a sauce pot and add the rice flour.  Mix with an egg beater so that no lumps are formed.  Add the melted jaggery and cook on a medium flame till it boils.  Stir in between and see that it does not stick to the bottom of the pan.  Once it boils, lower the flame and cook for another 5 minutes more.  Add the dry ginger powder, cardamom powder and the thick coconut milk before switching off the flame.  Serve the 'Pezhaha Appam' along with the 'Pal'.