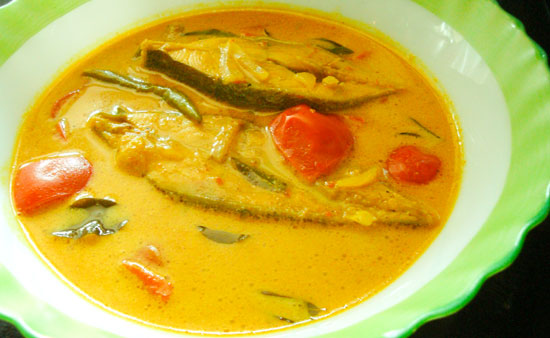 Wish You All A Very Happy Easter!
'Meen Palu Curry' is a delicacy among the Christians of Kochi in Kerala.  It is a mild yet very tasty fish curry which can be served with rice, appam, puttu, idiyappam, chapathi or bread.  Pomfret, King Fish, Mullet and Pearl Spot are the best for preparing 'Meen Palu Curry'.  Using coconut oil will bring out the authentic flavor of the curry.
Ingredients
Fish – 1/2 kg sliced
Oil – 2 tbsp
Ginger – 1 tbsp crushed
Garlic – 1 tbsp crushed
Onion – 1 big sliced
Green chillies – 6 slit
Curry leaves – 2 sprigs
Coriander powder – 2 tsp
Pepper powder – 1/2 tsp
Turmeric powder – 1 tsp
Garam masala – 1/4 tsp
Thin coconut milk – 1 1/2 cup
Water – /4 cup
Vinegar – 1 1/2 tbsp
Salt – to taste
Tomatoes – 2 medium diced
Thick coconut milk – 1/2 cup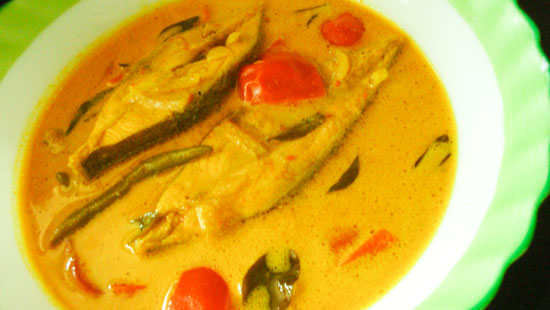 Method
Heat oil in a 'man chatti' or a non-stick pan and add crushed ginger and garlic.  When it turns light brown, add onions, green chillies and curry leaves.  Fry till the onions turn light brown in color.  Add the spice powders and sprinkle some water.  Fry till the aroma comes out.  Now add the thin coconut milk, water, vinegar and salt.  When it starts to boil, add the fish pieces.  Cook covered for 15 minutes.  Gently shake the pan in between.  Add the tomatoes and cook covered for another 5 minutes more.  Finally add the thick coconut milk and mix by gently shaking the pan.  Switch off the flame before it starts to boil. Enjoy with your loved ones!