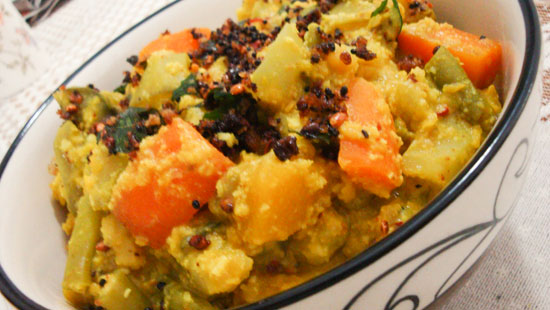 Ingredients
Channa Dal/ Kadala Parippu – 1/2 cup
Mixed vegetables – 3 cups diced
Water – 1 1/2 cups + 1/2 cup
Grated coconut – 1 cup + 2 tbsp
Dry red chillies – 4
Turmeric powder – 1 tsp
Cumin seeds – 1/4 tsp
Salt – to taste
Mustard seeds – 1 tsp
Black gram Dal/ Urad Dal – 1 tbsp
Curry leaves – 2 sprigs
Coconut oil – 3 tsp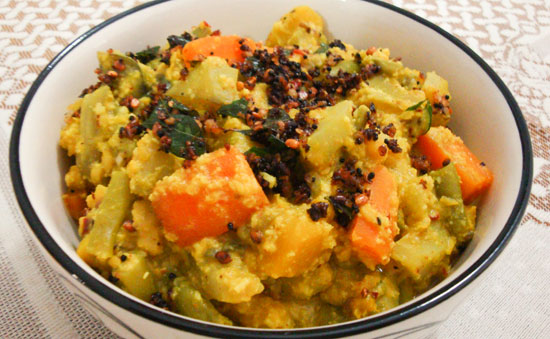 Method
Wash and soak the dal in water for half an hour.  Pressure cook the dal with 1 1/2 cups of water for 4 minutes on a low flame, after the first whistle.  Once it is cool, open the lid and add the diced vegetables and 1/2 cup of water.  Pressure cook for another 3 minutes.  Grind 1 cup of grated coconut, dry red chillies, turmeric powder and cumin seeds to a coarse paste and add it to the cooked veggies and dal.  Add salt to taste, mix well and cook till it starts to boil.  Heat oil in a pan and splutter mustard seeds.  Add urad dal and curry leaves.  Then add 2 tbsp of grated coconut and fry till it turns golden brown in color.  Pour it over the curry.  Serve delicious 'Kootu Curry' with rice or chapatis.
I used Potato, Carrot, Brinjal, Beans, Bottle Gourd and Chayote Squash to make this curry.  You can use any vegetables of your choice.
I am sending this Kerala style 'Kootu Curry' to Kerala Kitchen.