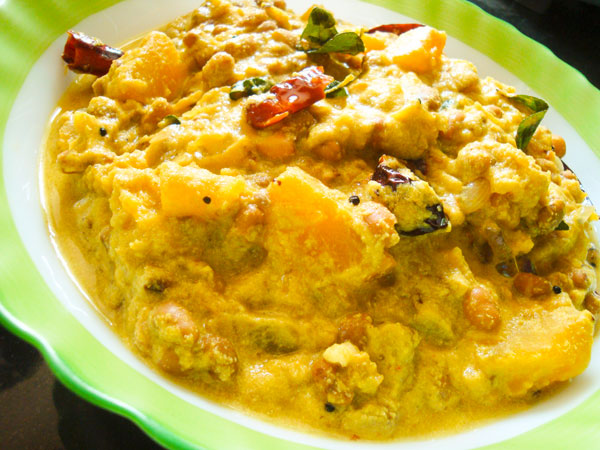 Ingredients
Yellow Pumpkin – 1/2 kg
Red Beans/ Van Payar – 1/2 cup
Turmeric powder – 1/4 tsp
Chilly powder – 1/4 tsp
Salt – to taste
For Grinding
Grated coconut – 1 cup
Turmeric powder – 1/2 tsp
Green chillies – 4
Cumin seeds/ Jeera – 1/4 tsp
For Seasoning
Mustard seeds – 1 tsp
Dry red chillies – 3 broken, seeds removed
Curry leaves – 2 sprigs
Grated coconut – 2 tbsp
Coconut oil – 1 + 1/2 tbsp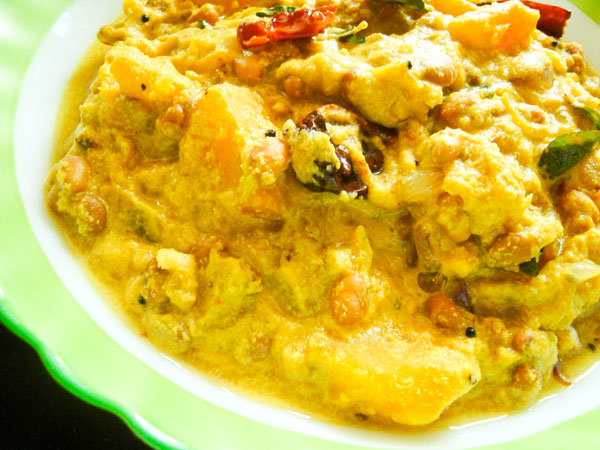 Method
Soak red beans in water overnight.  Wash and add 2 cups of water and pressure cook for 8 minutes on a low flame after the first whistle.  Let it cool.  Meanwhile, peel and cut the pumpkin into cubes.  Cook it with 1 cup of water, salt, chilly and turmeric powders.  Mash the cooked beans a bit and add to the pumpkin.  Cook till it is well cooked.  Mash till 3/4th of the mixture becomes a paste.  Grind the above mentioned ingredients to a fine paste and add to the curry.  Mix well and switch off the flame.  Heat 1 tbsp oil in a small pan and splutter mustard seeds.  Add red chillies and curry leaves.  Pour this over the 'Erissery'.  Now heat 1/2 tbsp oil in the same pan and fry grated coconut till golden brown.  Add this to the 'Erissery' and mix well.  Serve with steamed rice.
'Erissery' is an essential part of 'Onasadhya'.  Hope you will make yummy 'Erissery' this 'Onam'…!
Award
My dear friends Sarah and Shifa has shared this beautiful award with me.  Thanks a lot dearies!!!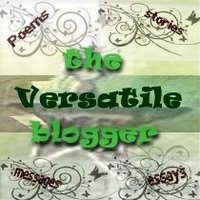 I am sharing this award with my friends Satya, Pravs, Priya, Sangeetha, Hari Chandana, Prajusha and Raks.