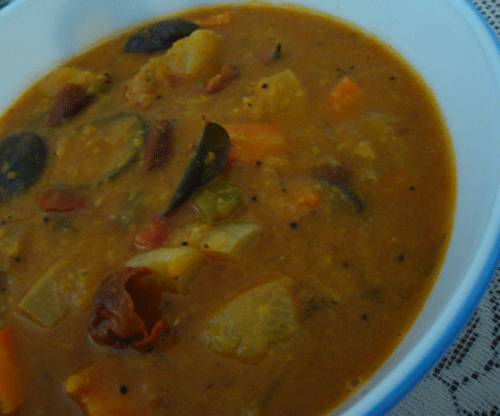 Ingredients
Toor dal – 1/2 cup
Mixed Vegetables – 2 cups
Tomatoes – 2 diced
Onion – 1 medium sliced
Green chillies – slit
Curry leaves – 2 sprigs
Dry red chillies – 4 broken
Turmeric powder – 1/2 tsp
Sambar powder – 3 1/2 tsp
Coriander powder – 1 tsp
Chilly powder – 1 tsp
Methi/Fenugreek powder – 1/8 tsp
Perumkayam/Asafoetida powder – a small pinch
Tamarind – a lime size
Water – 2 + 1 cup
Salt – to taste
Oil – 1 1/2 tbsp
Coriander leaves – 1 tbsp chopped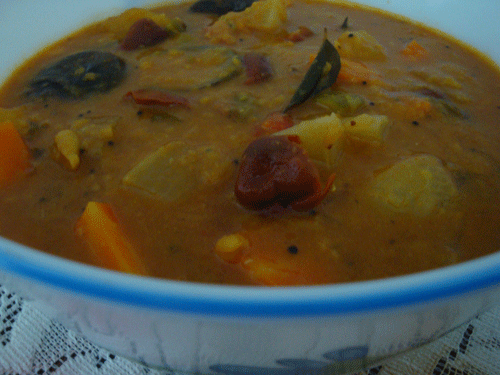 Method
Soak the tamarind in 1 cup of water and keep aside.  Wash the toor dal and put it into a pressure cooker.  Add onions, green chillies and turmeric powder.  Pour 2 cups of water and cook for 10 minutes.  Let it cool.  Meanwhile, heat oil in a non-stick pan and splutter mustard seeds.  Add curry leaves and dry red chillies.  Then add the diced vegetables and tomatoes.  Stir-fry for about 5 minutes.  Then add sambar powder, coriander powder, chilly powder, fenugreek and asafoetida powders.  Fry till the aroma comes out.  Switch off the flame and add the vegetables to the cooked dal in the pressure cooker.  Pour the tamarind water and add salt.  Mix well and close the lid and pressure cook for 5 minutes.  Once cooled, add the chopped coriander leaves and stir.  Serve lip-smacking 'Sambar' with hot rice, idli or dosa.  Cheers!!!
I used radish, carrot, pumpkin, broad beans and brinjal for making this 'Sambar'.  You can also use vegetables like drumsticks, lady's finger, beans and potatoes.
Yummy 'Sambar' is off to Ruchika for the event "My Legume Love Affair #22" which is the brainchild of Susan.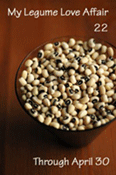 My friend Food Lovers has passed on this Sunshine Award.  Thank you so much, dear!