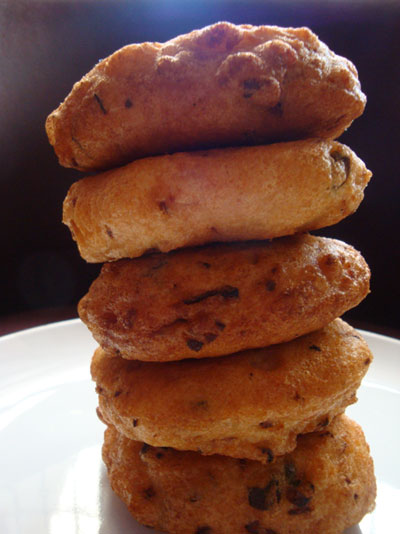 'Uzhunnu Vada' was my Mom's favorite snack!  From her I started getting a liking for this crispy outside but soft inside snack.  Now it has become a comfort food for me!  So here is my version of the recipe.  You will love the flavor of peppercorns and the tiny bits of coconut while munching on it!
I am sending this snack to Priya for the event "Sunday Snacks –  Spill the Beans"
This snack also goes to EC for the event "WYF: Fried Snack"
Ingredients
Uzhunnu/ Urad dhal/ Skinless Black gram – 1 1/2 cups
Onions – 1 chopped
Ginger – 2″ piece chopped
Green chillies – 4 chopped
Curry leaves – 1 sprig chopped
Coconut – 1 tbsp small fine pieces
Peppercorns – 20
Water – 2 tsp (optional)
Salt – to taste
Oil – for frying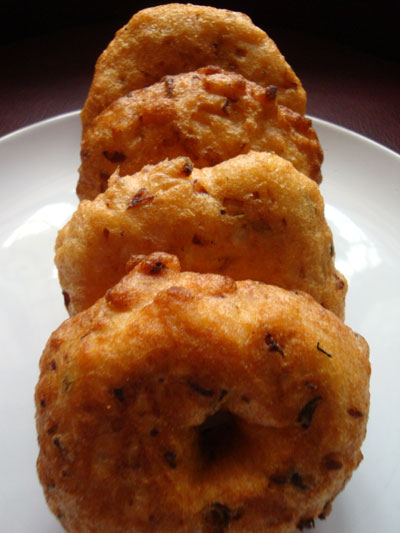 Method
Soak the urad dhal in water for an hour.  Drain and grind in a mixie without adding water.  Add one or two tsps of water if needed.  Take out and add all the other ingredients and mix well.  Wet the hands, take a lime size of the batter in one hand and make a hole in the middle.  Transfer it to the other hand and drop it gently into hot oil.  Fry it on a medium flame until the Vada turns golden brown.  Repeat the process with the rest of the batter.  Serve the Vadas with coconut chutney or sambar.  You can also make 'Curd Vada' by adding them to chilled yoghurt.