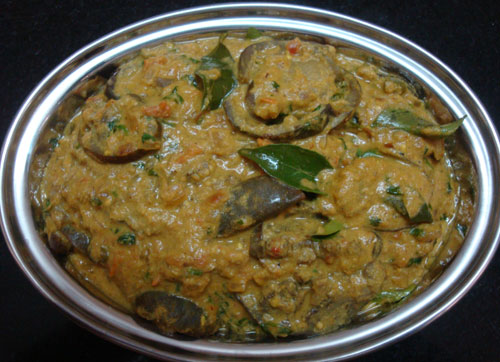 This is a yummy and delicious Brinjal Curry which goes well as a side dish for rice, dosa, chapathi, puri and paratha. Everyone in my family likes it. Even if you are someone who doesn't like Brinjal, try this recipe once and see for yourself how tasty it is!
This recipe goes to Sanghi's event "FIL -Brinjal"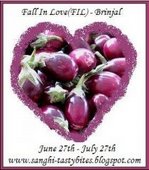 Ingredients
Brinjal – 1/4 kg
Tomatoes – 3/4 cup chopped
White sesame seeds – 2 tsp
Peanuts – 3 tbsp
Grated coconut – 2 tbsp
Turmeric powder – 1/2 tsp
Coriander powder – 1 tsp
Cumin/ Jeera powder – 1/2 tsp
Garam masala – 1/2 tsp
Dry red chillies – 2
Green chillies – 3 chopped
Onion – 1 medium chopped
Curry leaves – 1 sprig
Tamarind juice – 1/4 cup
Water – 1 cup
Coriander leaves – 1 tsp chopped
Salt – to taste
Oil – 3 tbsp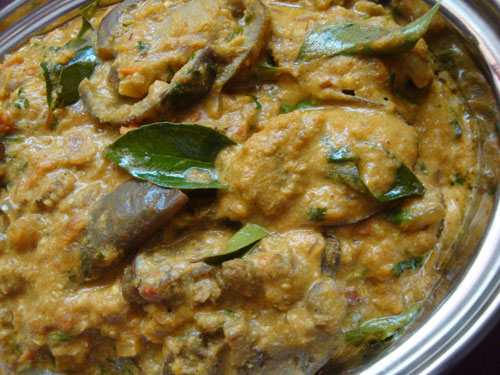 Method
Wash and cut the Brinjals into rounds.  Place them on a microwavable plate and mix with a teaspoon of oil.  Microwave for 5 minutes till they become tender.  Turn the slices once while cooking.  Slightly roast the peanuts, sesame seeds and dry red chillies.  Grind them with the grated coconut to a smooth paste, adding enough water.  Heat oil in a pan and add onions.  Saute till they turn golden brown.  Add the tomatoes and fry for sometime.  Now add the ground paste and fry for a minute.  Add the spice powders, green chillies and curry leaves.  Saute till the aroma comes out.  Now add water, tamarind juice and salt. Mix well and bring it to boil.  Add brinjal and cook on a low flame for 15 minutes.  Garnish with coriander leaves.  Serve the yummy Brinjal Curry with any main dish of your choice!